"Wow, you
can actually make your own glass!"
Don't miss this special opportunity to join skilled Fenton artisans and learn the various aspects of glassmaking. This 3-1/2 hour "school" offers you the opportunity to experience the "hands-on" crafting of molten glass on our Hot Metal floor. Fenton craftsmen will carefully guide you through the most difficult glassmaking skills, such as creating basket handles and crafting the desirable "hanging hearts."
You'll actually blow glass!
There's more - you will take home a piece of glass you personally made!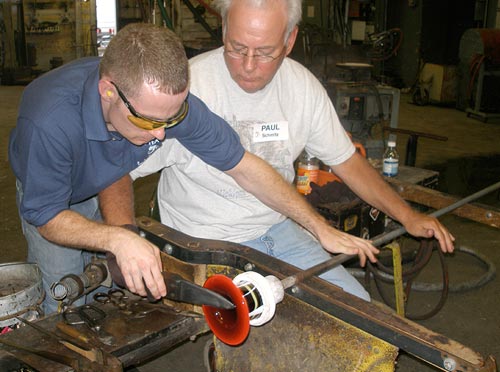 Master craftsman Frank Workman with student
Due to the personal hands-on attention that this event requires, space is limited, so purchase your tickets today!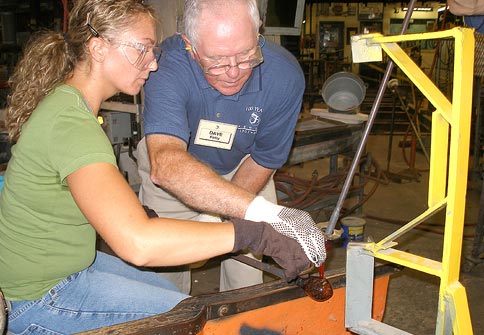 Master craftsman David Fetty with student

A

wonderful opportunity for
any glass connoisseur or
art enthusiast!

Limited tickets remain, so click below and secure your space today!

$250.00

f

ee for either school

(Students must be 18 or older to participate)

For more information on the glassmaking school, please call
1-800-319-7793 x311,
or email jena@fentongiftshop.com
Artistry Weekend
August 1-3, 2008
Tent-filled streets will surround the Fenton Gift Shop as dozens of talented glass artists from throughout WV and OH demonstrate, display and sell their beautiful glasswork.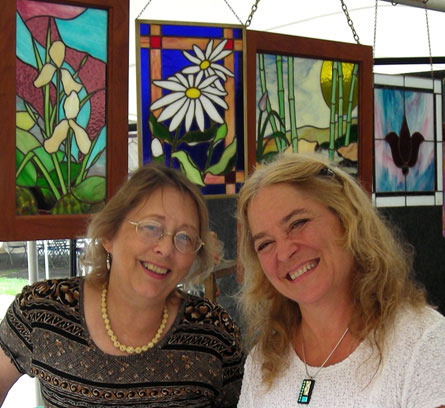 The year 2008 marks the 400th anniversary of glassmaking in America. So this is the perfect time to experience the wonder of glassblowing, lampworking, glass etching and carving, fused and stained glass and more...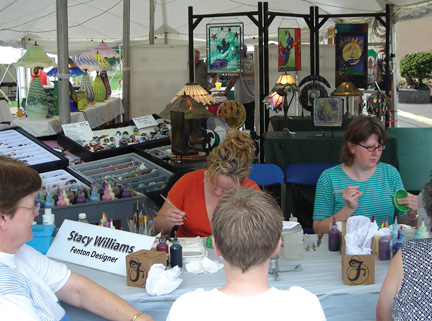 Bring your family and friends... take a factory tour and explore the wonders that await you at the Fenton Artistry Weekend August 1-3.
FREE admission
Additional activities:
Master Craftsmen events, custom glass decorating, free glass ID, Fenton family signing events, Fenton Bingo, concessions and more...
For more information please contact
1-800-319-7793 x311, or send email to jena@fentongiftshop.com