IN THIS ISSUE:
FENTON GIFT SHOP NEWS
Once in a Lifetime Opportunity!
Make your own piece of glass at Fenton's Glassmaking School! Skilled Fenton craftsmen carefully guide you through the process, and you'll actually blow glass! There's more... you will take home a piece of glass you personally made. Perfect for the glass connoisseur or art enthusiast! Click here for details.
SPECIAL FENTON GIFT SHOP OFFERINGS!



Don't Miss Out!
Never before offered online
at these low clearance prices!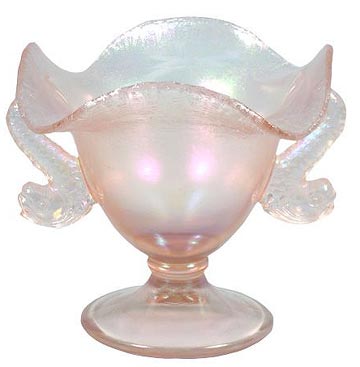 300013 7'' Sunset Stretch Dolphin Comport. Original price $38.00
now $24.50 Buy Now!
This classic Sunset Stretch Dolphin Comport is made with a special blend of metallic salts that is sprayed on the hot glass before the piece is reheated and flared to its final shape. As the finisher flares the glass it stretches the iridized coating, resulting in the captivating "stretch" look.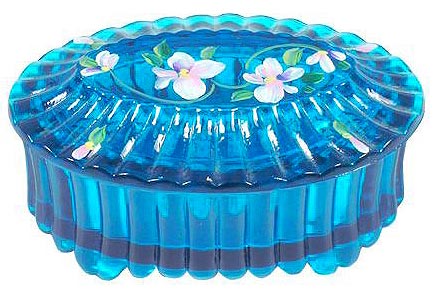 300016 4-1/2'' Turquoise Treasure Box.
Original price $36.75 now $25.25 Buy Now!
Handpainted and signed by the
artist. Store an assortment of life's cherished memories or your
favorites jewels in this functional treasure box.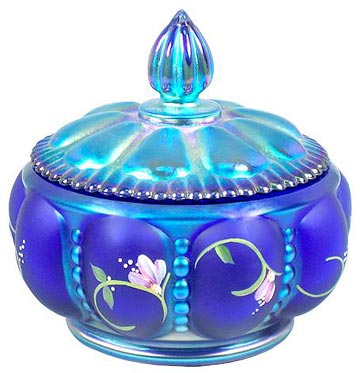 300014 5-1/2'' Favrene Beaded Melon
Puff Box. Original price $143.00
now $103.75 Buy Now!
Shimmering tones of pure silver in the batch allow Favrene glass to project a rainbow of color. Favrene glass is made with silver that is coaxed to the surface in a special reheating process. When sprayed with metallic salts, it develops a silvery-blue satin luster. This beaded melon puff box is limited and numbered to 100 pieces.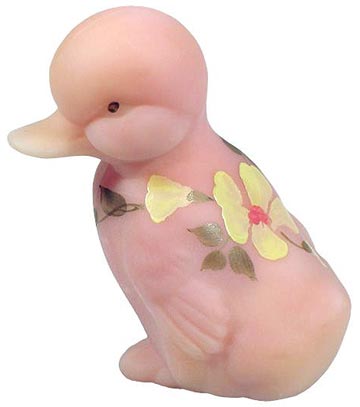 240003
3'' Gift Shop Exclusive Burmese Duck with Yellow Flower. Original price $50.00
now $40.00
Buy Now!


Produced as a Gift Shop Exclusive,
this adorable Burmese Duck with handpainted yellow floral design will be a welcome addition to any Fenton animal collection.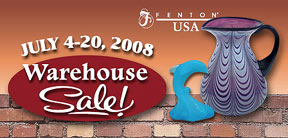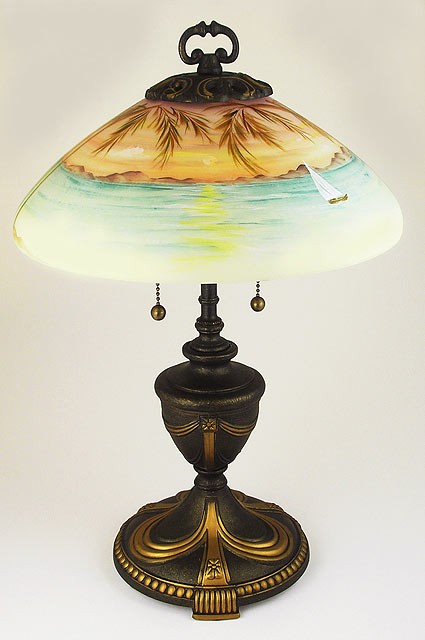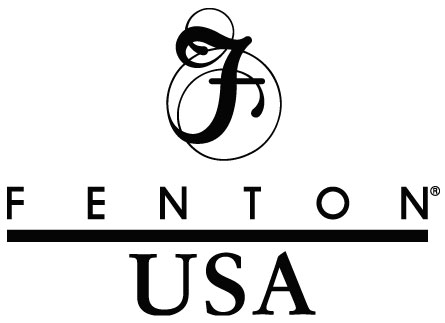 Fenton USA Presents. . .
"Sunset Symphony"
Our Limited Edition Burmese sanded lamp features a sailboat gliding
along on a tranquil sea. This highly detailed design by Fenton designer Michelle Kibbe is sure to light up your room's decor with a soft, warm glow.
The shade is handcrafted by our
skilled craftsmen in Burmese glass.
The high quality hardware has a burnished bronze finish. Click here to see more items from 2008.
6200DG 17'' Sunset Symphony Burmese Lamp, Limited to 175 ($650 U.S.)

Anniversary Gifts. . . from Fenton International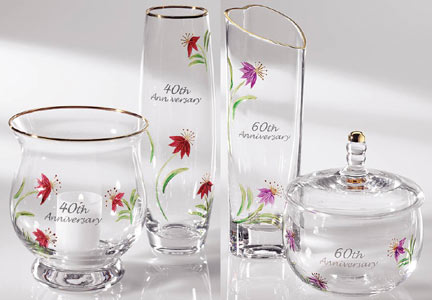 FG883 40th Anniversary Candleholder ($19.50); FG870 40th Anniversary Bud Vase ($24.50 U.S.); FG876 60th Anniversary Heart Vase ($25.00) and
FG889 60th Anniversary Candy Box ($24.50)
Fenton International's line of Anniversary glass consists of memorable gifts that symbolize everlasting love. Each piece features cut glass floral designs that are hand cut into the glass using special wheels. The precious metal lettering is applied and then fired into the glass. Each design is handpainted and fired again to create the brilliantly sparkling image. Fenton International features artistic handcrafted gifts from around the world. For more items in the Anniversary collection, click here.
Fenton Returns to QVC next week!
Fenton Art Glass Company President George Fenton appears as guest host on QVC on July 4, 2008 at 4 p.m. Eastern Time. For a preview of items to be offered, click here.
Moo. . .ch − Who Could Resist That Face?!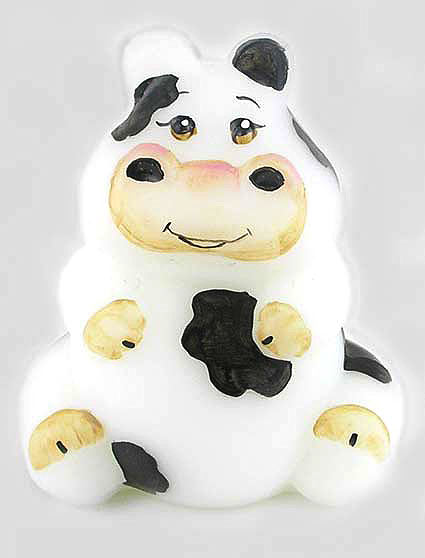 "Moo......ch" is our name for this whimsical Hippo 3'' figurine with handpainted decoration designed by Kim Barley. He's all dressed up and ready to go trick or treating! Enjoy Halloween with this whimsical Fenton figurine. Or, add a unique piece to your "cow" collection! Each "Moo...ch" is meticulously handpainted and personally signed by the talented artist who has completed him.
5063FB
3'' Hippo figurine ($39.50)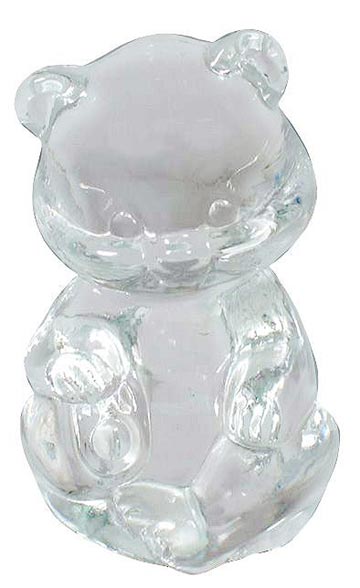 214219
3-1/2'' Crystal Bear $9.50
Preferred Second - You can't go wrong with one of Fenton's most popular figurines of all time. This adorable Crystal Bear is the perfect gift for the young or young at heart!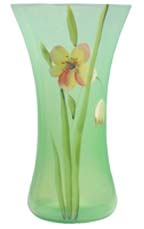 212518
10'' Fern Green Opaline Vase with Irises
$75.00

Preferred Second
A lush bouquet of irises, handpainted with remarkable shading, combines with the glossy translucence of blown glass to transform
this centerpiece vase into quite the
conversation piece!