IN THIS ISSUE:
FENTON GIFT SHOP NEWS
Once in a Lifetime Opportunity!
Make your own piece of glass at Fenton's Glassmaking School! Skilled Fenton craftsmen carefully guide you through the process, and you'll actually blow glass! There's more...you will take home a piece of glass you personally made. Perfect for the glass connoisseur or art enthusiast! Click here for details
SPECIAL FENTON GIFT SHOP OFFERINGS!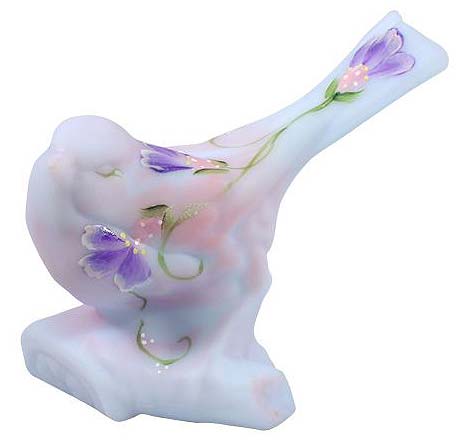 C5238UQ 3'' Blue Burmese Bird on
a Log $39.50
Buy Now!

Bring a touch of nature year-round
to your home with this lovely 3''
Blue Burmese Bird on a Log. The handpainted satin finish features a soft periwinkle design in purple and white with yellow highlights.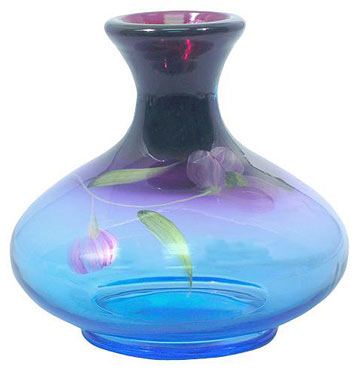 280002 5'' Handpainted Mulberry Vase
$40.50 Buy Now!

Mulberry glass has always been popular with our collectors. Hand-painted with a simple and pretty metallic floral design this vase will be
a nice addition to any collection.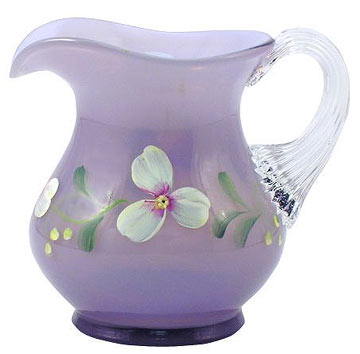 C7877J1
4-1/2''
Violet Opaline Handpainted Pitcher
$79.75
Buy Now!

This 4-1/2" French Opalescent pitcher overlayed with Violet glass features a striking French Opalescent ribbed handle. Handpainted with cream and violet flowers.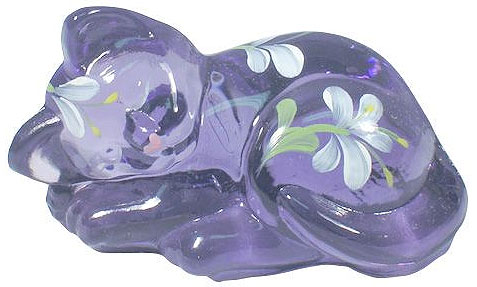 A5064HP1
3-1/2'' Violet Sleeping Kitten with White Floral Design
$23.75
Buy Now!

Lovely translucent Violet glass handpainted with a white floral
design make this kitten a real "Sleeping Beauty." Don't miss adding
this Gift Shop Exclusive to your collection!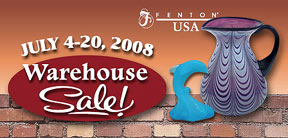 Fenton USA Presents... Madras Pink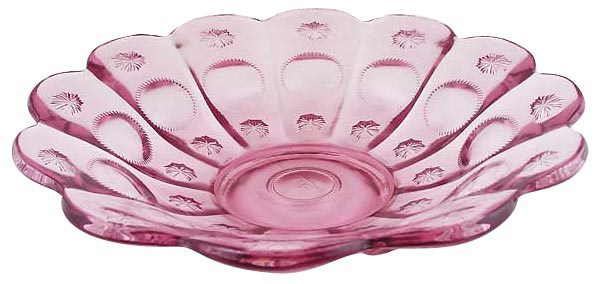 5833PJ 11'' Priscilla Bowl ($79.50 U.S.)
Our warm Madras Pink is easy on the eyes and perfect for any home. This Priscilla bowl is from a Fenton mould inspired by an 1890s pattern from a glass factory in Findlay, Ohio. Madras Pink items are also available with Robin Spindler's Meadow Berry design. Click here to see more pieces from our 2008 line.

Celadon. . . from Fenton International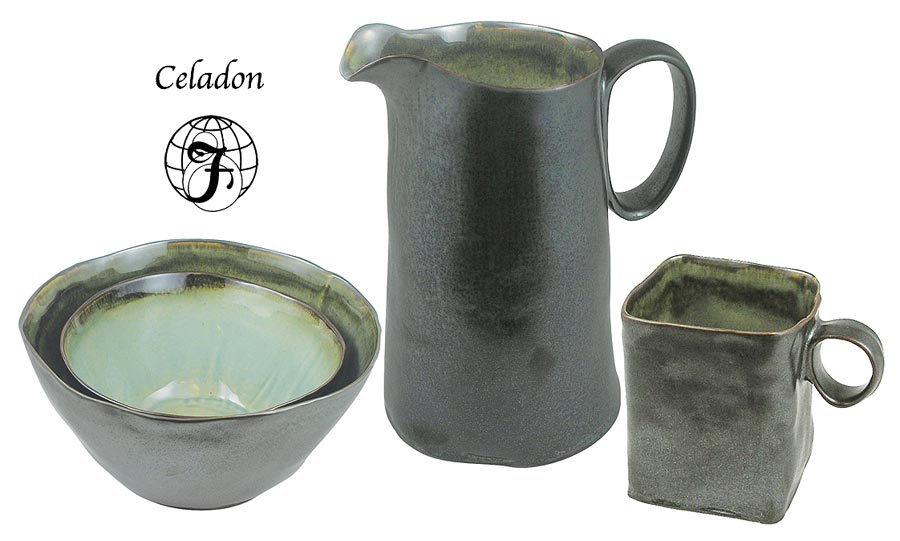 80008 Set of 2 Nested Bowls ($69.50);
80009 Pitcher ($44.75 U.S.) and 80001 Mug ($9.75 U.S.)

The Celadon collection from Fenton International is a color and treatment whose time is now. The amazing reactive glaze updates a color revered for thousands of years. The delicately crinkled edges and contemporary shapes have an urban chic appeal. This collection is extremely durable and can be used in the oven and in the microwave. The Celadon collection includes dinner and salad plates, serving bowls, nested platters, creamer and sugar, teapot, and more. To view more Celadon and other ceramic items from Fenton International, click here.

Planning to visit Fenton?

If you're planning to visit Fenton Art Glass this summer, you may want to be aware of our summer employee vacation schedule. Fenton decorators
will be on vacation June 30 - July 7, and the glassworkers will be on vacation July 7 - 11th. There will be no tours on July 4th although the Gift Shop Warehouse Sale begins that day. The Fenton Museum will be open during the vacation schedule. For details on tours, please email: tours@fentongiftshop.com or call 1-800-319-7793.
Visit Our Clearance Corner . . .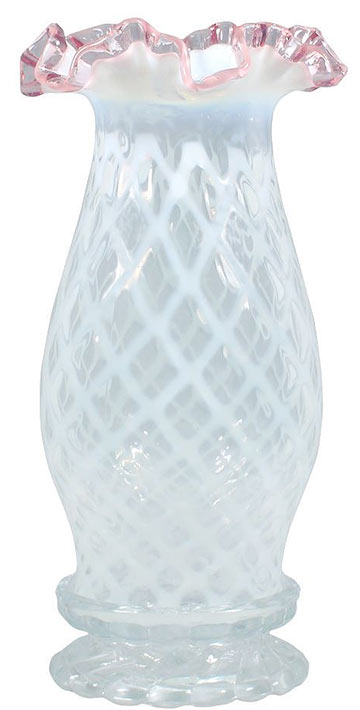 M8129FO
10-1/2'' Fenton Gift Shop French Opalescent Hurricane Shade with Crystal base
Original price $71.50 now $46.50
This stunning two-piece French
Opalescent Diamond Optic Hurricane
Shade with a delicate Madras Pink
crest and a Crystal base will make
a striking addition to your room's
decor. Handcrafted with pride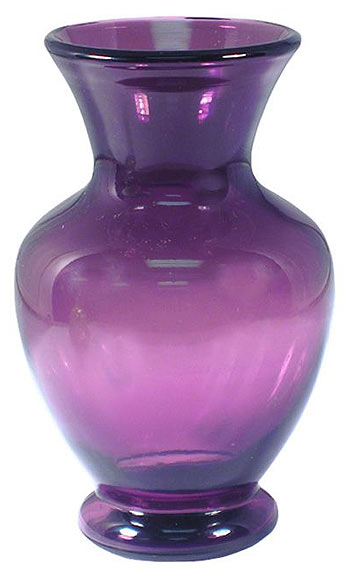 by the artisans at Fenton.
212917
7'' Fenton Gift Shop
Elegant Aubergine
Vase $29.25

Preferred Second
This simple and elegant
7" Aubergine Vase is the
perfect vase for that summertime bouquet.