IN THIS ISSUE:
Gift Shop News

Lamp Specials

Chameleon Green

Dave Fetty at Oglebay

Clearance Corner

Preferred Seconds
FENTON GIFT SHOP NEWS
Once in a Lifetime Opportunity!
Make your own piece of glass at Fenton's Glassmaking School! Skilled Fenton craftsmen carefully guide you through the process, and you'll actually blow glass! There's more...you will take home a piece of glass you personally made. Perfect for the glass connoisseur or art enthusiast! Click here for details
SPECIAL FENTON GIFT SHOP OFFERINGS!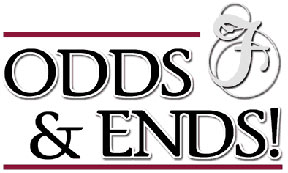 Unfortunately, accidents happen.
If you're looking for a replacement
item for a special Fenton piece...
it pays to look first at our new
ODDS & ENDS category (click here).
We hope you find what you're
looking for!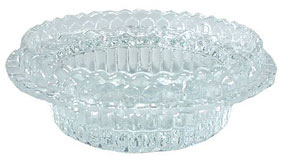 Z9073CY 1-1/2'' Crystal Fairy Light Insert for our three-piece fairy lights.$13.75 Buy Now!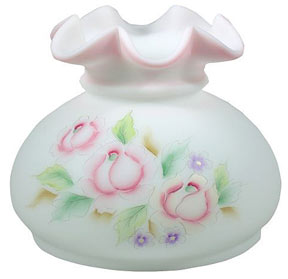 150003
7'' Opal Satin Handpainted Shade $120.00
Buy Now!

Looking to change your room's décor? This Opal Satin Shade with hand- painted blush roses could be the ideal replacement piece for that Fenton Lamp. This style shade with a 7" diameter bottom can be used on our standard student lamp hardware.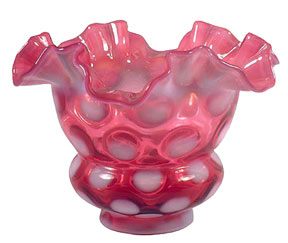 IS255CR
4 1/4'' Cranberry Coin Dot Shade
$60.00
Buy Now!

Classy Classics…Accent your existing ceiling fan with a fresh, new look! These attractive Cranberry Coin Dot shades (4-1/4" h.) will turn everyone who enters your home into a Fenton fan. Base is approximately 2" across.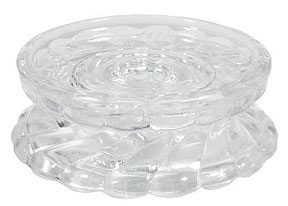 300008
1-1/2'' Crystal Hurricane Candle Base
$14.50
Buy Now!


This Crystal hurricane candle base could be a perfect replacement piece for that top shade missing its companion piece.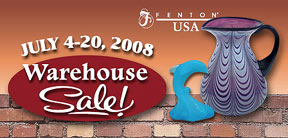 Fenton USA Presents...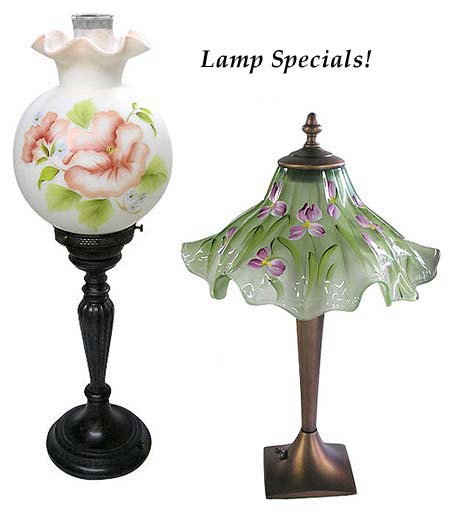 Lamp Specials!

Fenton USA continues the tradition of special savings on our handmade lamps! The lamp styles vary from Gone with the Wind lamps to Pillar lamps and Student lamps. Each Fenton lamp is created by a skilled craftsman in the Fenton factory in Williamstown. Decorated shades are handpainted by talented Fenton artists who proudly sign each completed piece.
Click here to view our selection of lamps to complement any decor.

XS340HPG Pillar Lamp, 27"
Opal Satin with floral design ($259 U.S.)
X6605US Ruffled Lamp, 17"
Fern Green with floral design ($249 U.S.)
Copper Leaf on Chameleon Green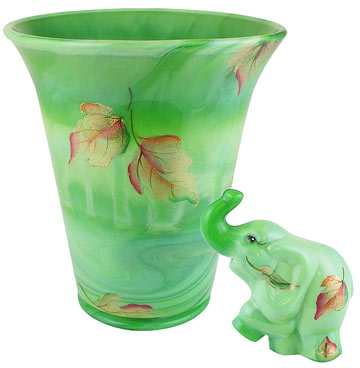 Chameleon Green is one of our new colors for 2008. Our first factory manager, Jacob Rosenthal, developed an opaque "Nile Green" before he joined Fenton, and it's became a collector favorite. We're pleased to offer this "contemporary" version of his original color.

As its name implies, our opaque Chameleon Green glass features subtle color changes amidst the characteristic striations of this interesting hue.
Designed by Kim Barley, the handpainted Copper Leaf motif on Chameleon Green glass is crisp, yet serene. The items shown are also available unadorned.

2744CF Copper Leaf on Chameleon Green 8'' Vase ($119.50)
5136CF Copper Leaf on Chameleon Green 3-1/2'' Elephant ($32.50 U.S.)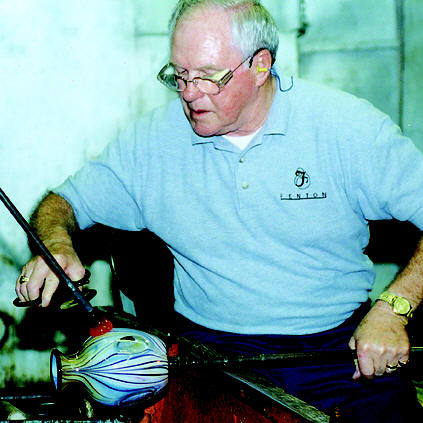 Dave Fetty Demonstration
At Oglebay Institute June 21-22

Dave Fetty, Fenton Art Glass master craftsman, will be demonstrating his glassmaking technique on June 21 and 22, 2008 during regular museum hours (Saturday 10 a.m.-5 p.m. and Sunday noon-5 p.m.) at Oglebay Institute's Glass Museum at the Oglebay Resort in Wheeling, WV. Click here for more information.
Visit Our Clearance Corner . . .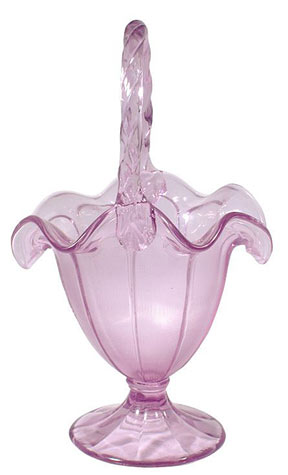 06574PS
10-1/2'' Fenton Gift Shop Madras Pink Basket
Original price $76.50
now $49.50
This Madras Pink Paneled Basket is the perfect gift to give...especially filled with candies or a
summertime bouquet.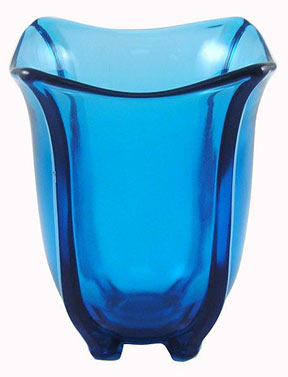 211662
7 1/2'' Fenton Gift Shop
Indigo Blue Square Vase $43.75

Preferred Second - This popular 7-1/2'' Square Vase in
Indigo Blue will add
a bit of charm to
any home décor.