IN THIS ISSUE:
Fenton Gift Shop News

Studio Fenton Pitcher

Lotus Mist Burmese

QVC Sneak Preview

Auction May 25

Clearance Corner

Preferred Seconds
FENTON GIFT SHOP NEWS

Once in a Lifetime Opportunity!
Make your own piece of glass at Fenton's Glassmaking School! Skilled Fenton craftsmen carefully guide you through the process and you'll actually blow glass! There's more...you will take home a piece of glass you personally made. Perfect for the glass connoisseur or art enthusiast! Click here for details!
SPECIAL FENTON
GIFT SHOP OFFERINGS!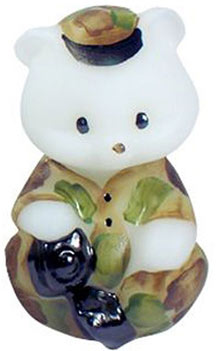 DS869HP1
2-3/4''
White Opal Satin Mini Memorial Day Bear $35.00
Buy Now!
DS869HP2
3-1/2''
White Opal Satin Memorial Day Bear $45.00
Buy Now!

Show your American pride! These White Opal Satin Bears were produced for Memorial Day in honor of our military heritage. Proudly signed by the artist and inscribed with Collectors' Showcase logo on the bottom.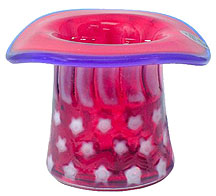 02376UZ - 2-3/4'' Stars & Stripes Cranberry Opalescent Hat Vase
$89.50 Buy Now!

This Stars and Stripes Hat Vase is a lasting symbol of American pride and a wonderful addition to any patriotic collection! The French Opalescent design of Stars and Stripes against Cranberry is complemented beautifully by the Cobalt rim. Each
piece is marked on bottom "Stars & Stripes 2001". . .
a year we'll never forget.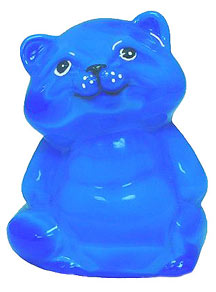 I5142HPP2
3-1/2'' Fenton Gift Shop Periwinkle Blue Raccoon $30.75 Buy Now!

This playful handpainted Raccoon was made exclusively for the Fenton Gift Shop. The vivid Periwinkle blue color, originally produced in the 1930s and reintroduced in 2004, has become very popular with collectors.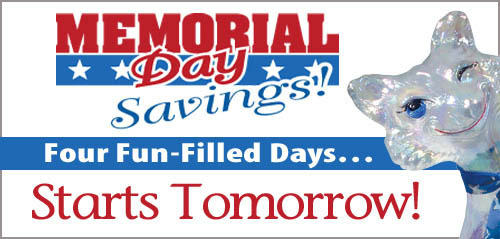 Fenton USA's Studio Fenton Presents. . .

"Golden Fur" by Dave Fetty
The 2008 Studio Fenton Collection from Fenton USA showcases the skills and talents of our glassworkers and artists. Included in this year's Collection is the "Golden Fur" spout pitcher by Dave Fetty. This unique pitcher will surely start people talking when it's on display in your home!

Master glass artisan Dave Fetty created a unique finish for the top of this pulled feather spout pitcher.

8150QS 6'' Golden Fur Spout Pitcher by Dave Fetty. Limited to 500 pieces ($295.00)

Blushing Tulip on Lotus Mist Burmese

The soft green with a touch of warm pink in our Lotus Mist Burmese glass is perfect for this Bird on
a Log figurine. The ''Blushing Tulip'' design is by
Robin Spindler. Limited to 2000 pieces
052386X 4'' Bird on a Log, ''Blushing Tulip'' on Lotus Mist Burmese. Limited to 2000 pieces ($46.00)
Don't Miss the Fenton Auction This Weekend!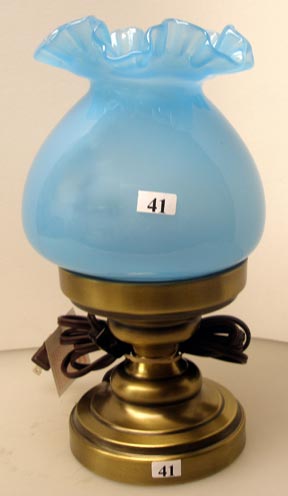 An auction of Fenton Art Glass will be held at the factory in Williamstown on Sunday, May 25. The auction begins at Noon EDT with a preview at 11 a.m. Light lunch will also be available.
There will be 250 lots of glass. There will be many one-of-a-kind samples ranging from color to shape to designer (including
Louise Piper). Colors include Blue Burmese, Chocolate, Cranberry Opalescent, Lava, Smoke, Wild Rose, and more! For an auction preview, visit
www.randyclarkauctions.com
Sneak Preview of Fenton's July 4th QVC Show!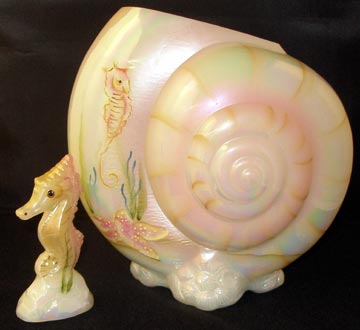 A one-hour QVC Fenton program with George Fenton is scheduled
for July 4. Among the items to be featured will be this magnificent
7-1/2'' tall Nautilus vase and a Seahorse figurine. Sold separately, but you'll want both!
Made with a mould that originated
at the Cambridge Glass Co. in the 1920s, this Nautilus vase is limited to 250 pieces. A difficult piece to produce ... but Fenton's skilled glassblowers are more than equal to the task. The iridized Opal glass captures the beauty of a seashell and is the perfect canvas for the colorful airbrushed and handpainted decoration by designer Kim Barley. The Seahorse 4" figurine (sold separately) makes a great complement to the vase with Kim Barley's design. Each piece will be personally signed by the Fenton artist who completes it.
Visit Our Clearance Corner . . .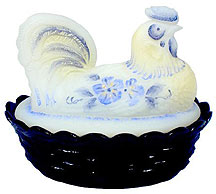 300009
4 1/2'' Rooster Box with Black Nest
Original Price $54.75 now $39.50

Inspired by the rich work of tapestries,
this 4 1/2" Rooster Box is handpainted
with a blend of delicate muted hues of
blue and yellow.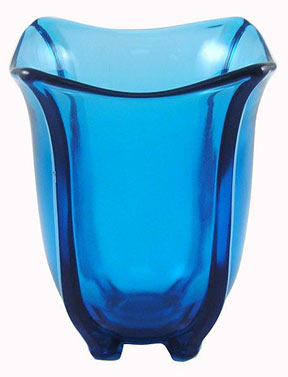 Preferred Second
This popular 7-1/2" Square Vase in Indigo Blue will add a bit of tranquil charm to any home décor.

211662 - 7-1/2'' Fenton Gift Shop
Indigo Blue Square Vase $43.75