IN THIS ISSUE:
Fenton Gift Shop News

Studio Fenton Vase

Fenton Bells

Auction May 25

Clearance Corner

Preferred Seconds
FENTON GIFT SHOP NEWS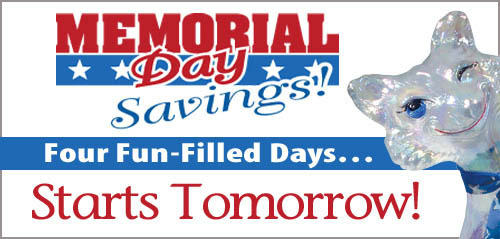 Once in a Lifetime Opportunity!
Make your own piece of glass at Fenton's Glassmaking School! Skilled Fenton craftsmen carefully guide you through the process and you'll actually blow glass! There's more...you will take home a piece of glass you personally made. Perfect for the glass connoisseur or art enthusiast! Click here for details!
SPECIAL FENTON GIFT SHOP EXCLUSIVES!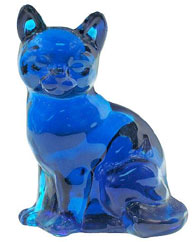 05165ZW
3-3/4'' Indigo Blue Cat, $20.25 Buy Now!
This 3-3/4" Indigo Blue sitting cat will make a wonderful addition to your Fenton Cat collection.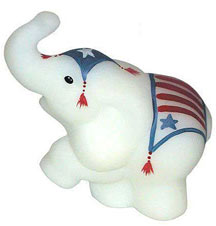 DS625HP
4'' Fenton Gift Shop Patriotic Opal Satin Elephant
$35.00
Buy Now!

Whether you're a Republican or just love Fenton animal figurines …don't miss adding this Gift Shop Exclusive Elephant to your collection. Opal satin glass, handpainted and signed by the artist in a star spangled design that symbolizes the American dream.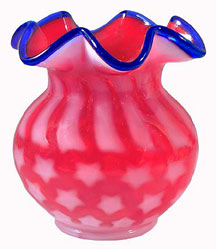 CV771UZ
4-1/2'' Stars and Stripes on Ruby Rose Bowl $61.50
Buy Now!

This 4-1/2" Stars and Stripes
on Ruby rose bowl is a sure
sign of Americana. The French Opalescent design of Stars
and Stripes against Ruby is complemented beautifully with the Cobalt rim. A wonderful addition to any patriotic collection.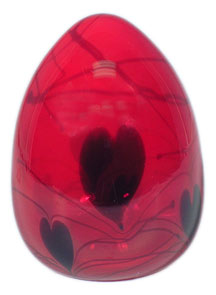 Z5031HR
4-3/4''
Dave Fetty
Ruby Hanging Hearts Egg, $175.00
Buy Now!

This Dark Ruby Egg with black Hanging Hearts and random threading was created by master glass artisan Dave Fetty. His personal stamp is embossed on the underside. A Gift Shop Exclusive, this Egg has also been personally signed "Dave Fetty 2007."
Fenton USA's Studio Fenton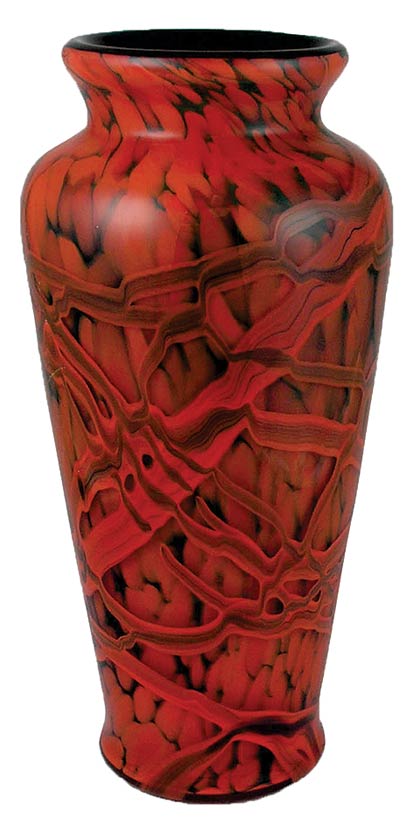 Presents. . .
Lava Flow by Frank Workman
The 2008 Studio Fenton Collection from
Fenton USA showcases the skills and talents
of our glassworkers and artists. Included in this year's Collection is the magnificent "Lava Flow" vase. This vase will surely start people talking when on display in your home!

Glass artisan Frank Workman continues to awe visitors at Fenton Art Glass. For "Lava Flow,"
he rolls a gather of lustrous black glass in crushed orange glass called frit and then works the color into the surface before covering it with pure crystal. The result is a vivid mixture of light and dark orange-red tones set against the black background ... all of which does indeed remind one of the awesome flow associated with molten lava. Frank's skill is evident as he completes the work by deftly shaping the topmost area into graceful curves.

8620B5 "Lava Flow" 11-3/4" Vase, Limited to 450 pieces ($295 U.S.)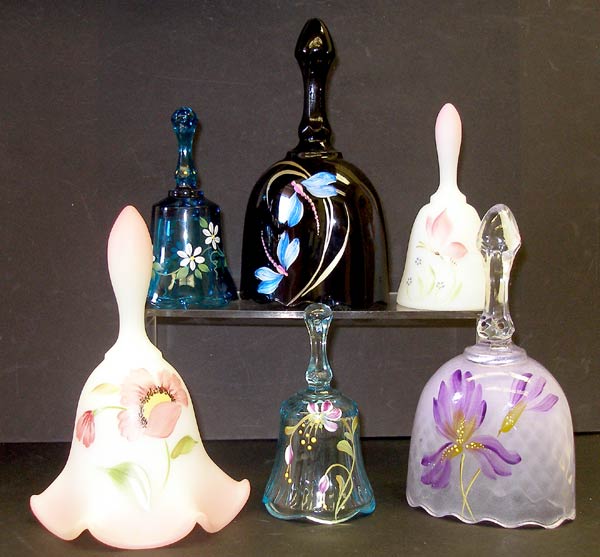 The Beauty
of Fenton Bells

The beauty of bells...appealing to the eye and pleasing to the ear, delightful to decorate with and enjoy. Every year our gifted artists create a new array of handpainted designs to add
to your collection. This year's selections, from designer Robin Spindler, include Oval Diamond Bells in Crystal and in Black; a mini-bell in Opal; a Star Crimp Bell and two mini Aurora bells with floral designs. Click on
each bell to view details.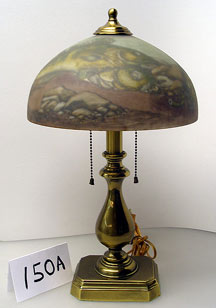 Fenton Auction May 25!
An auction of Fenton Art Glass will be held at the factory in Williamstown on May 25. The auction begins at Noon EDT with a preview at 11 a.m.
Light lunch will also be available.
There will be 250 lots of glass ranging from the unique lamp shown here to designer samples and rare, one-of-a-kind pieces by Robert Barber,
Dave Fetty, Nathan Sheafor, and Frank Workman. Colors include Burmese, Carnival, Favrene, Heather, Topaz Opalescent, and more! For an auction preview, visit
www.randyclarkauctions.com
Visit Our Clearance Corner . . .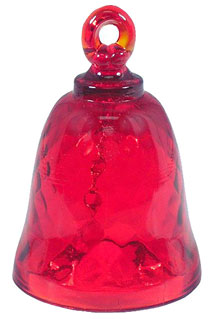 This 3-1/4" Ruby Mini-Bell will delight the owner
with its beauty and enchanting sound.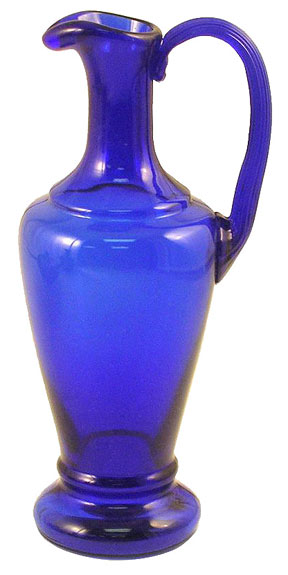 X4275RU - 3-1/4''
Fenton Gift Shop Ruby Mini Bell
Original price $23.25 now $17.50


Preferred Second. The applied ribbed
handle and free-formed spout makes this rich
Cobalt Blue Ewer an elegant piece of decorative art. Proudly handcrafted by the artisans at Fenton.
200027 - 8 1/2'' Fenton Gift Shop Cobalt Ewer $51.00