IN THIS ISSUE:
Fenton Gift Shop

"Sail Away" Vase

Fenton Returns to QVC

Fenton Auction May 25

Clearance Corner

Preferred Seconds

Gift Shop Sale Preview

In Memoriam
FENTON GIFT SHOP NEWS

FREE Master Craftsman Event featuring Frank Workman
Saturday, May 10, 2008
10 a.m. - 11:00 a.m. & Noon
Seeing is believing...
Seating is limited for these special "up close and personal" events so reserve your seat today! Call customer service
at 1-800-319-7793 x327
or x383 or email: service@fentongiftshop.com
SPECIAL FENTON GIFT SHOP EXCLUSIVES!
I2988HPRL
6-1/4'' Ruby Amberina Stretch Handpainted Vase
$65.00


Cheerful times blossom when you grace your home with this limited and numbered piece!
Only 300 made...this Ruby Stretch Vase with a lovely handpainted floral design is a perfect addition to any collection.


A5064HP2 3-1/2'' GSE Violet Sleeping Kitten with Pink Floral Design - $23.75 - Buy Now!
Sleeping Beauty...or maybe just a little cat nappin'... One thing's for certain this delicate Violet Kitten handpainted with a pink floral design will find a special place in your heart...and home! Don't miss adding this Fenton Gift Shop Exclusive to your collection.
Z5177HPXE
11'' FGS Exclusive Chameleon Green Alley Cat $83.50
Buy Now!

Sunny days ahead...
Don't miss out on this new Gift Shop Exclusive! Our expressive handpainted Chameleon Green Satin Alley Cat will definitely brighten any home with his whimsical features.


213701 - 3-1/2'' White Opal Satin Handpainted Farmer & Daughter Bear Set $64.00 - Buy Now!
E-I-E-I-O...Down home in the country! This adorable White Opal Satin Farmer and Daughter Bear Set will make all fruits of labor seem worthwhile! Proudly signed by the artist and inscribed with Collectors' Showcase logo on the bottom.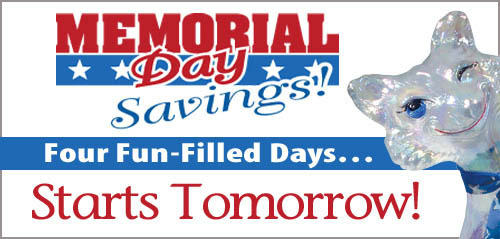 Fenton USA Presents
"Sail Away″ Vase
The dramatic "Sail Away" Vase by Kelsey Murphy and Robert Bomkamp will take your breath away as you view the meticulous detail! Fenton′s Indigo Blue glass provides the perfect background for their summery sailboat scene with seagulls flying nearby. A different scene
is depicted on the back of the vase. Impressive not only in detail but in size (12''), this vase will surely become a conversation piece when on display in your home!
Limited to 250 numbered pieces.
088022L 12'' Sail Away Vase ($1950)

The Vivid Iridescence of Indigo Blue Carnival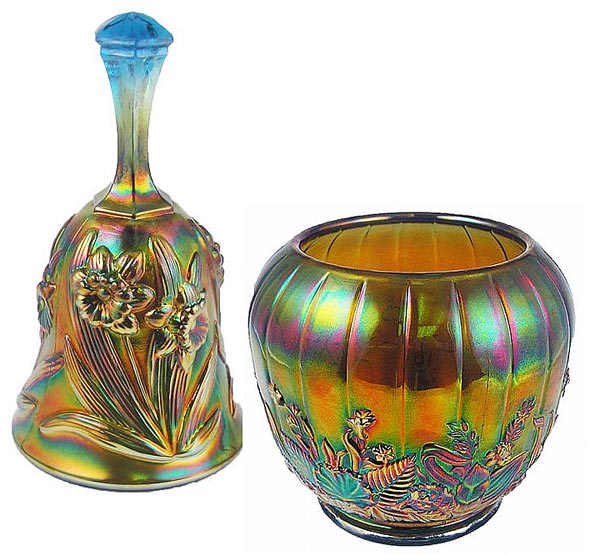 In 1907, Fenton Art Glass introduced an exciting new line of glassware called "Iridescent Ware.″ This new product featured vivid, changing metallic hues on highly-patterned pressed glass items. The glass was highly popular and eagerly sought by collectors. Stories of the glass being used as prizes in midway games led to it being called "Carnival glass.″ In 1970 Fenton renamed the line "Carnival glass″ and
it has since been known by that name.
The secret−both in 1907 and today−
is the special spray of metallic salts on the glass while it is very hot. We continue to make Carnival glass by hand, the "old-fashioned way,″ and we never cease to marvel at the resulting rainbow of colors and the interesting hues. The two pieces shown above, 6-1/4'' Daffodil Bell and the 5'' Bouquet Rose Bowl feature interesting pattern detail.
08660Z5 Daffodil Bell ($57.50) and 08523Z5 Bouquet Rosebowl ($77.50)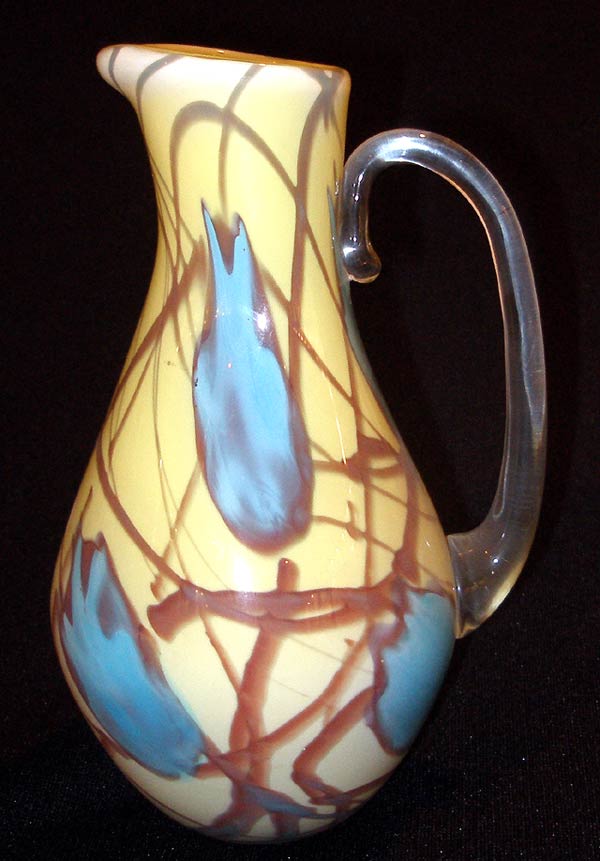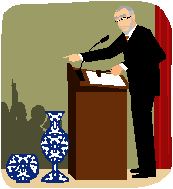 Fenton Auction May 25!
An auction of Fenton Art Glass will be held
Shown at right is one of the selected
auction pieces... a Robert Barber pitcher.
Watch future newsletters for additional details.
Fenton Returns To QVC!
Fenton Art Glass returns to QVC on July 4! A show featuring George Fenton
and Fenton Art Glass is scheduled. Be sure to tell your fellow collectors and check our website www.fentonartglass.com for updates!
Visit Our Clearance Corner . . .
Handpainted with a "Rose Scroll" design, this blown perfume bottle with a delicate striped optic brings an elegant style to the beauty of Aquamarine glass.

M5443PD 5-1/2'' Fenton Gift Shop
Aquamaine Perfume Bottle
Original price $82.50 NOW $60.50



Preferred Second - quality remains long after price
is forgotten. This 23" Silver Crest Spanish Lace Milk Glass "Gone with the Wind" lamp will add beauty and style to any room in your home for many years to come!

140002 3'' Spanish Lace Milk Glass GWTW Lamp $325.00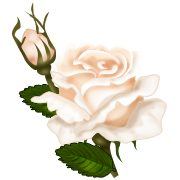 With sadness, we learned of the passing on April 29 of Sharon Bragg,
owner of The B & B Shop in Lima, Ohio. Scott Fenton shares his thoughts: ..."Sharon worked with us for many years and she was one of our most passionate dealers and collectors. Her meticulous attention to detail and quality played an important part in our everyday decisions here at Fenton. She always voiced her opinion for the better of the company and wasn't afraid to voice criticism as well if she thought it would help. Many times you could tell she was speaking not only for herself but for many collectors. We will miss her support and dedication."