IN THIS ISSUE:
Fenton Gift Shop

Mother′s Day History

Treasure Boxes

Fetty Hanging Hearts

Clearance Corner
Z7653BKHP1
7-1/2'' Fenton Gift Shop Pink Daffodil Black Glass Vase $42.00
Buy Now!


A delightful, classic Black vase featuring an embossed daffodil pattern and handpainted accents. Produced as a Gift Shop Exclusive, this Daffodil Vase blooms year-round and is proudly made by the artisans
at Fenton!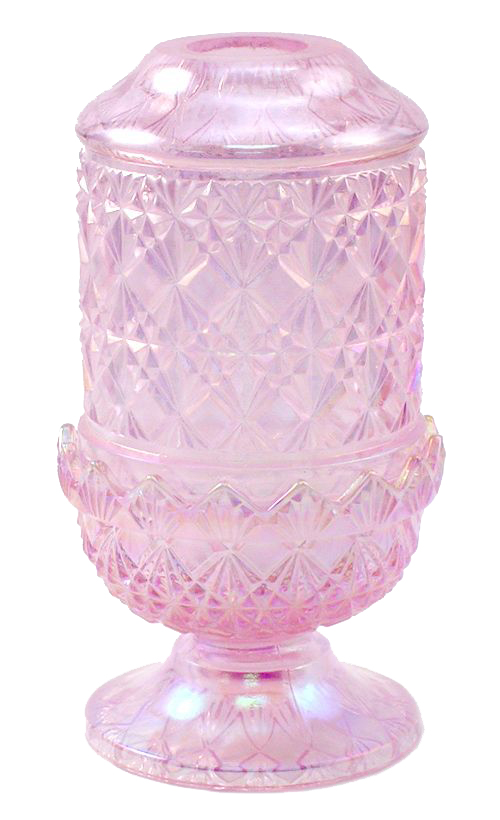 C9102NG
6'' Fine Cut and Block Design Rosemilk Iridized Fairy Light $42.00, Buy Now!
This two-piece Rosemilk Iridized Fairy Light adds a warm welcoming touch to any home. A perfect gift to give or receive, the Fine Cut and Block design stunningly resembles cut glass.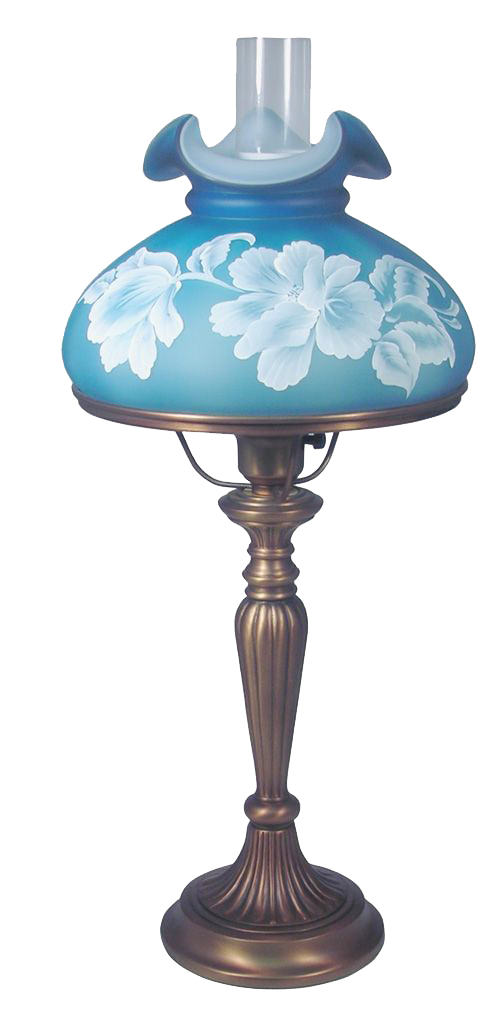 M1541HP03
22-1/2'' Dresden Blue Hand- painted Floral Lamp $375.00
Buy Now!



A new 2008 Gift Shop Exclusive Lamp…in limited quantity! This lovely Dresden Blue Lamp begins with a French Opalescent core covered in Indigo Blue. Enhanced with a satin finish and exquisite white floral design by Robin Spindler, this hand-painted exclusive will likely become a treasured family heirloom.
GS416HP1 8'' dia. Silver Crest
Heart-Shaped Dish
Only $99.00
"From The Heart ... for The World's Greatest Mother!"
Don't miss the chance to get this Milk Glass Candy Dish with our trademark crystal crest and handle personalized for Mom. Handpainted with yellow roses, we'll inscribe "World′s Greatest Mother" on the front and "Love!″ (Your Name) and "5-11-08" on the back ... Free of charge!
NOTE: Please specify name (from whom) in the note field when ordering on-line.
Celebrate Mother's Day with a Fenton Keepsake!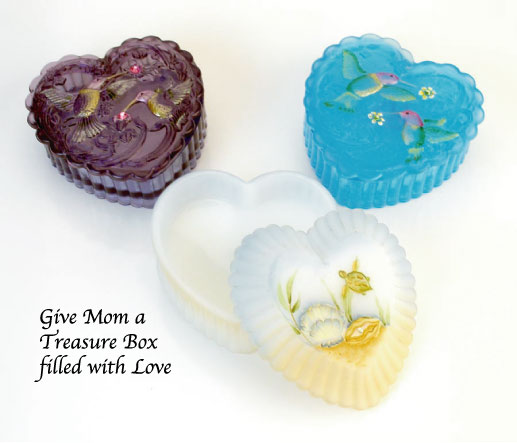 5786RI Hummingbird Treasure Box in Hyacinth ($49.50); 5786RY Hummingbird Treasure Box in Sky Blue ($49.50); and 6606S0 Ribbed Heart Treasure Box in Opal Satin ($55.00)
Show Mom your love this Mother′s Day with
a Treasure Box from Fenton. Place a personal note inside to recall a cherished memory and remind her she′s special every day! Our Spring 2008 Collection includes three heart-shaped handcrafted Treasure Boxes. The Opal Sanded Treasure Box features an swimming turtle
designed by Kim Barley.

This darling Cat Treasure Box makes a perfect keepsake! The playful cat is perched upon an ottoman ready to play. Cute, yet functional, the cat′s tail serves as a ringholder, while the ottoman stores tiny treasures! Made in Opal and decorated with a pink floral design by Robin Spindler.
5361R4 Cat Treasure Box in Opal Sanded ($55.00)
Hearts of Love from Fenton!

This vase is a great example of master craftsman Dave Fetty′s artistry in making off-hand glass. The milk glass core is a perfect background for
red hearts, blue "pulled feather" treatment, and an applied cobalt blue top edge. This 7'' vase has been blasted with aluminum oxide crystals to
give it a soft, satin finish. Dave Fetty′s personal stamp is on the underside, too!
IDF77 Hanging Hearts Vase ($235.00)

Visit Our Clearance Corner. . .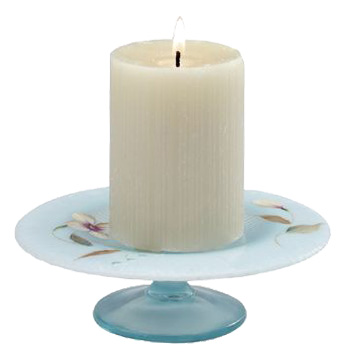 The velvety opalescence of Aquamarine Opalescent Stretch glass enhanced by
delicate handpainted "Sand Petals" florals.
Simply breathtaking! (Candle not included)
89197T - 7'' dia. Sand Petals on Aquamarine Opalescent Stretch Candleplate.
Original price $59.50
NOW $44.75 Buy Now!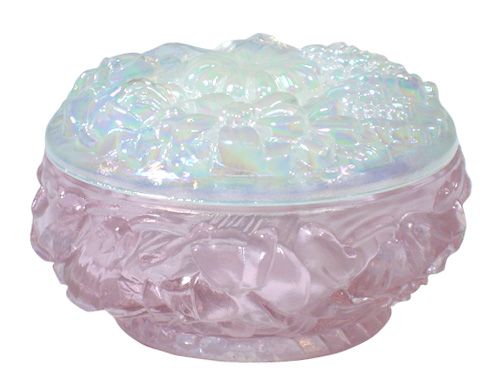 Perfect for jewelry, potpourri, or storing cherished keepsakes, this handcrafted Trinket Box will be treasured by many special Moms and Grandmothers.
M9382FSHM - 5'' Fenton Gift Shop Pink and Opal Trinket Box. Original price $23.50 NOW $18.75 Buy Now!