IN THIS ISSUE:
FENTON GIFT SHOP NEWS
FREE Master Craftsman Seminars
featuring Frank Workman
Saturday, April 12, 2008
10 a.m. - 11:00 a.m. - Noon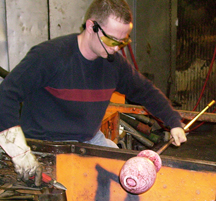 Frank narrates his own work at a recent Master Craftsman seminar.
Up close and personal!
Watch Master Craftsman Frank Workman dazzle you with his glassmaking skills...this Saturday at 10am...11am...or Noon!

Spaces are limited for each
FREE one-hour master craftsman demonstration, so reserve your seat today!

Call customer service at
1-800-319-7793, x327
or x383, or email:
service@fentongiftshop.com
SPECIAL FENTON GIFT SHOP
EXCLUSIVES!
Handcrafted Fenton Artistry
at its Finest!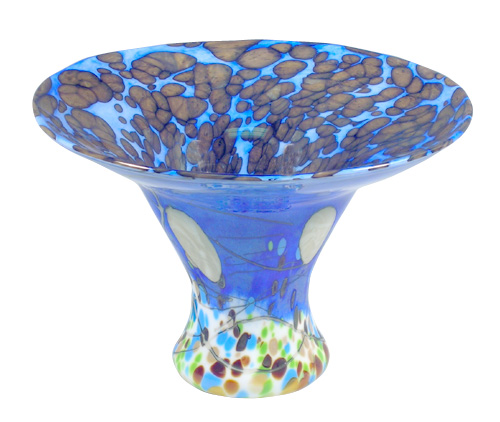 Unique "Off Hand" Originals
by Frank Workman. If you are a
true art glass connoisseur, you'll definitely enjoy starting or adding to your collection of
"Off Hand" Frank Workman Originals. Don't miss out . . . these One-of-a-Kind creations won't last long!


Z5056XE
3-1/2''
Fenton
Gift Shop
Chameleon Green Dinosaur
$27.50
Buy Now!

A Fenton Gift Shop Exclusive!
Our new Chameleon Green,
a favorite among collectors, transcends extinction ... making this delightful dinosaur figurine come alive with personality.
2-1/2'' GSE Autumn Gold
Handpainted Frog $23.75 Buy Now!

Hop into spring with this "toad-ally″ awesome frog. Handpainted with a pretty daisy design, this Gift Shop Exclusive will be a great addition to your collection.
Fenton USA Presents . . .
"Blushing Tulips″ on Lotus Mist Burmese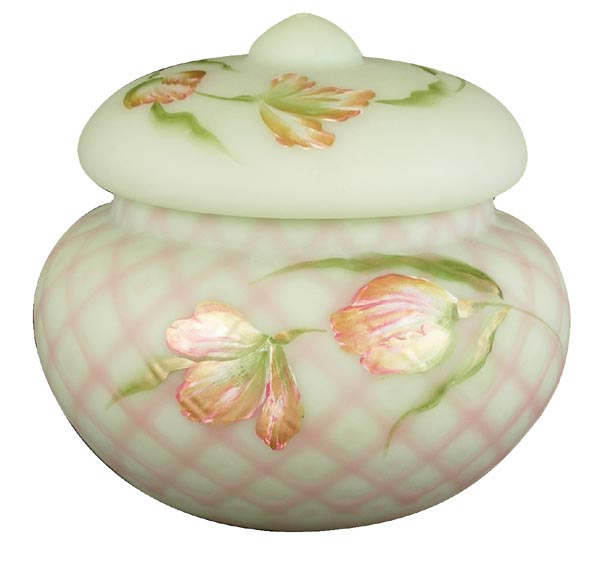 The soft green and warm pink
of our Lotus Mist Burmese glass is the perfect complement to designer Robin Spindler's depiction of "Blushing Tulips."
Limited to 950 numbered pieces, this
4-1/2'' Puff Box features a diamond optic pattern on its base. Handpainted and signed by the artist.
For more items for 2008, click here.

077476X ''Blushing Tulips'' on Lotus Mist Burmese Puff Box, $165 U.S.

What's Coming from Fenton International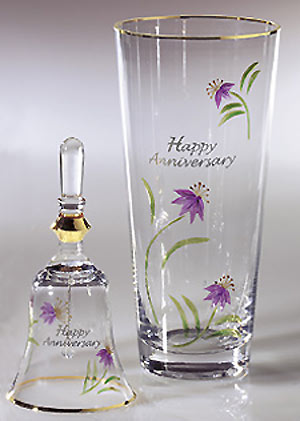 Fenton International features artistic handcrafted gifts from around the world. Our Anniversary collection features a floral design hand cut into the glass using special wheels. Precious metal lettering is applied and fired into the glass. Finally, each design is handpainted and fired again to create a brilliant, sparkling image.

There are variety of items available−from a bud vase and bell to a candle holder and candy box−for that special anniversary gift. Check with your Fenton International retailer to see when these items will be available or watch this newsletter for updates.

Here's a Herd of Fenton Foals!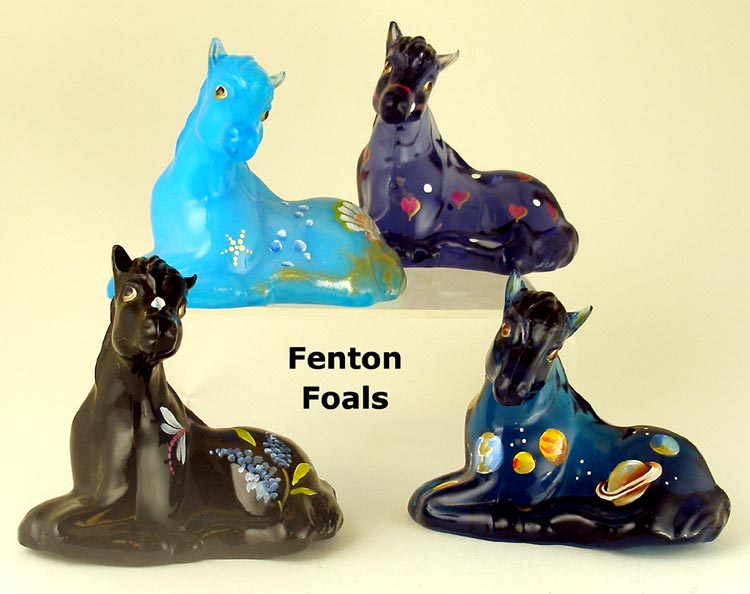 These adorable Fenton Foals are sure to please figurine collectors! Each Fenton Foal sports its own color and a distinctive handpainted decoration designed by
Robin Spindler.
Click on the individual figurine to view details. For more January First Half 2008 items from Fenton USA, visit your local Fenton dealer or
click here.
Visit Our Clearance Corner. . .

X5034NG - 5'' Fenton Gift Shop Rosemilk Iridized Angel
Original price $26.50
now $24.50 Buy Now!

This charming Rosemilk Iridized Angel figurine is the perfect gift for any special "angel" on your list.

308155NF - 7 1/2''
Golden Orchids on
Marigold Square Vase
Original Price $129.50
now $97.25 Buy Now!

The "liquid gold″ color of the glass inspired
Frances Burton to design stately orchids that seem
to float on the surface. The shapely vase
features clean lines to complement the
simple elegance of the orchids.

More Fenton Points of Interest...