IN THIS ISSUE:
Fenton Gift Shop News

Fenton Carnival Glass

Fenton International

Fenton Natural Animals

Clearance Corner
FENTON GIFT SHOP NEWS
FREE Master Craftsman Seminar featuring Frank Workman
Saturday, April 12, 2008
10 a.m. - 11:30 a.m.
1 p.m. - 2:30 p.m.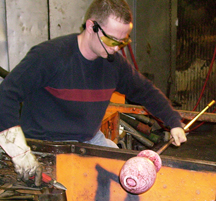 Frank narrates his own work at a recent Master Craftsman seminar.
Seeing is believing...
watch Frank Workman produce vases and similar objects with a basic mould ... then create vivid decorative motifs ranging from hanging hearts and thin threads to amazing swirls, twists and exaggerated geometric patterns by hand! Space is limited for these special "up close and personal″ sessions so reserve your seat today! Call customer service at 1-800-319-7793 x327 or x383 or email service@fentongiftshop.com
SPECIAL FENTON GIFT SHOP
EXCLUSIVES!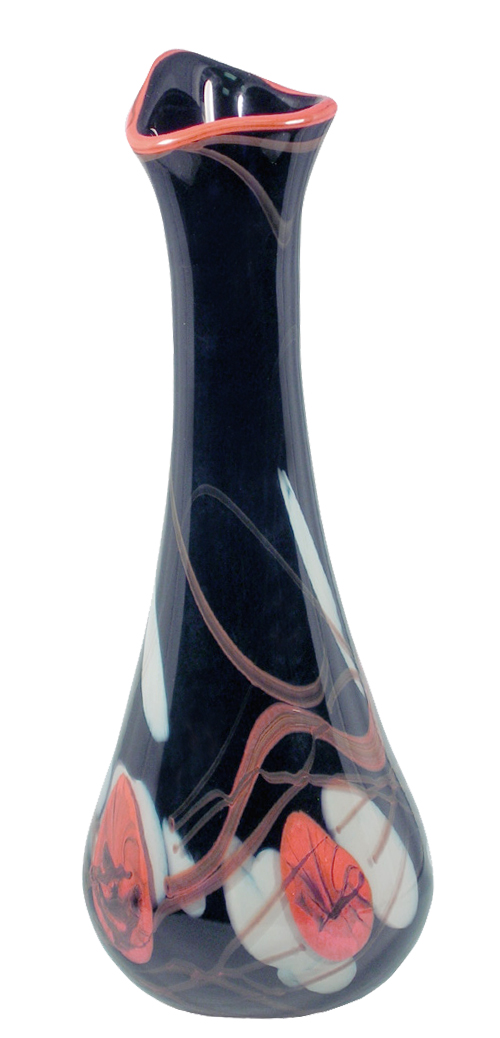 Handcrafted Fenton Artistry
at its Finest!
Unique "Off Hand" Originals by Frank Workman. If you are a
true art glass connoisseur, you'll definitely enjoy starting or adding to your collection of "Off Hand"
Frank Workman Originals. Don't miss out…these One-of-a-Kind creations won't last long!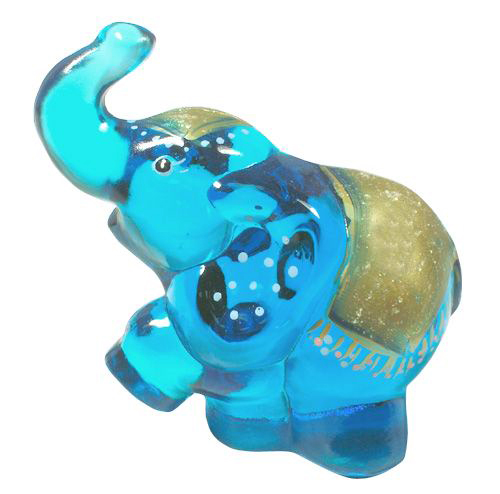 A5136HPQA
3 1/2'' Handpainted Turquoise Elephant, $26.50
Buy Now!


The whimsical handpainted features of this adorable Gift Shop Exclusive elephant are sure to appeal to the young and "young at heart." … and hopefully bring a little luck to its proud owner!
Fenton USA Presents a Collector Favorite . . .
Carnival Glass!
First introduced in 1907, Fenton′s "iridescent ware″ as it was called then, was a great
success and continues to be eagerly sought by collectors. The secret to our Carnival glass is the special spray of metallic salts used while the glass is very hot.
We´ve improved much of the original chemistry and iridizing techniques since 1907. Our 2008 Carnival items are sure to become heirlooms of the future.
041973Z Black Carnival 10'' Orchid Vase, $145.00

What's Coming from Fenton International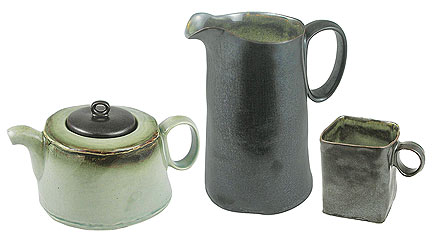 Fenton International features artistic handcrafted gifts from around the world. First shown in our March 6, 2008 Newsletter, the Celadon collection features a trendy color and treatment. The amazing reactive glaze updates a color favorite.
The crinkly edges and contemporary shapes have an urban chic appeal. Shown here are the teapot, pitcher and mug. These items are very durable and may be used in the microwave. Check with your Fenton International retailer to see when these items will be available or watch this newsletter for updates.
What's Perfect for Figurine Collectors?
Fenton's "Natural Animals″ . . . Naturally!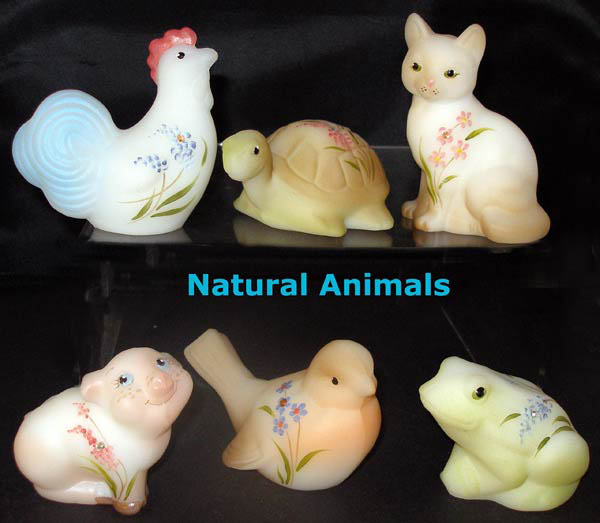 These bright Spring floral designs by Robin Spindler enhance the appeal
of our 2008 Spring Natural Animals collection.
Each figurine is meticulously handpainted by a Fenton artist and has the added attraction of a Swarovski gemstone on each animal.
Click on the individual figurine to view details. For more Spring 2008 items from Fenton USA, visit your local Fenton dealer or click here.

Visit Our Clearance Corner. . .
The essence of springtime comes alive when you fill this lovely French Opalescent Iridized Rose Bowl with your favorite potpourri.
XS382ET
3-1/2'' French Opal Iridized
Rose Bowl, Original Price $30.25,
now $27.50 Buy Now!

05234KN
3-1/2'' Cobalt Blue Satin Jayhawk.
The mythical bird ''Jay Hawk'' is believed to bring good luck. Display this Jay Hawk proudly in hopes good fortune will come to you. Original Price $25.00, now $20.00 Buy Now!
More Fenton Points of Interest...