IN THIS ISSUE:
Fenton Gift Shop News

2008 Horizons Collection

Fenton International

Fenton USA Butterflies
FENTON GIFT SHOP NEWS
Congratulations to Bonnie Hunter of Michigan! Bonnie won a $100 gift certificate in our recent "Luck of the Irish"
contest. An avid Fenton collector, Bonnie is looking forward to purchasing a very special item from Susan Bryan, Featured Artist in the Fenton Gift Shop.
SPECIAL FENTON GIFT SHOP
EXCLUSIVES!
Z43917B
8'' Sky Blue Peacock Vase,
Signed by Randy, Christine and Shelley Fenton $124.00
Buy Now!

Spring has sprung and the late Wilmer C. "Bill" Fenton LOVED the color blue. What a perfect time to offer this elegant Sky Blue Peacock vase, created exclusively for the Fenton Gift Shop. This fresh new color featuring a translucent quality with unique striations is enhanced with the signatures of his three children still involved with the company: Randy Fenton, Christine Fenton and Shelley Fenton.

027243Z Black Marigold Lion Bowl, $71.50, Buy Now!

Avid Carnival glass collectors will especially love our striking Black Marigold Lion Bowl. Produced as a new Fenton
Gift Shop Exclusive for 2008, this piece is a "must have" for any Carnival collection.

A5163HPZQ, 4'' Indigo Blue Handpainted Bird, $23.75, Buy Now!

Bright and cheery, this delightful Fenton Gift Shop Exclusive features handpainted daisies on our popular Indigo Blue glass. Very limited quantity... don't miss out.
Fenton USA Presents. . .
2008 Horizons Collection!
First introduced in 2007, Fenton´s
Horizons Collection−Designs for a New Generation, is keeping pace with emerging design trends. Included in the 2008 Horizons Collection is this elegant Melon Vase in our classic Burmese glass.
Pure gold in the glass batch creates the warm pink hue at the top which blushes down to the vining lush grapes designed by Kim Barley.
Check your local Fenton retailer for this and other items for the 2008 Horizons Collection. 0474443 9 1/2'' Melon Burmese Vase, $197.50
What's Coming from Fenton International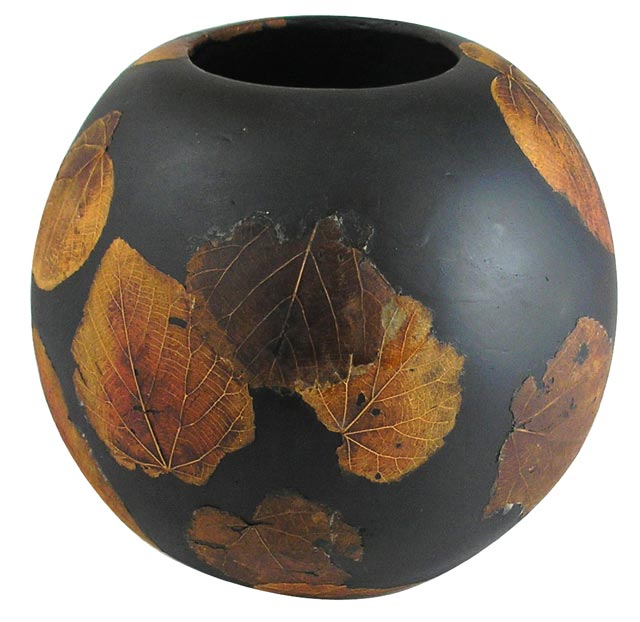 Fenton International features artistic handcrafted gifts from around the world. This Spring, we will introduce the Leaves collection. This unique product line is made of ceramic and wood with real tree leaves applied to the outside and lacquered for permanence. The end result is amazing detail and warm colors. Shown at left is the 7'' Low Half Moon vase in Black.

Check with your Fenton International retailer or watch this newsletter for updates.
Our Butterflies Wing Their Way to Your Home!

Vivid iridescence and a touch of glitter enhance the appeal of our Butterflies for Spring 2008.

Designed by Robin Spindler, these butterflies are carefully airbrushed and feature handpainted details. Available in Chameleon Green, Hyacinth, Indigo Blue (shown) and Madras Pink. Click here to view more Spring 2008 items from Fenton USA or visit your local Fenton dealer.
5296IC 3'' Indigo Blue Butterfly, $39.50
More Fenton Points of Interest...
Fenton Factory Tours

Visitors to Fenton Art Glass will find a spacious Gift Shop and a pleasant museum. Free factory tours
(M-F 8:15 a.m. to 2:30 p.m.) take small groups of guests right out to the factory floor to see glassmaking "up close and personal." Friendly, knowledgeable tour guides explain all aspects of the operation. The Fenton tour has been ranked among the "Top 10" factory tours nationwide by USA Today. In addition we have been named Rand McNally Best of the Road for 2006. For a factory tour schedule, click here. For a map, click here.