IN THIS ISSUE:
Ocean Fantasy Vase
Fenton Gift Shop News
Fenton International
New Chameleon Green
FENTON GIFT SHOP NEWS
Lucky Winner drawn Monday, March 17th on St. Patrick's Day at
Noon EST.

No purchase necessary to win... however, to enter you must
email your name, address
and phone number to service@fentongiftshop.com by midnight on Sunday, March 16th. Please put Luck of the Irish Drawing in the subject line.
SPECIAL FENTON GIFT SHOP
EXCLUSIVES!
Everybody needs an adorable Fenton Frog... especially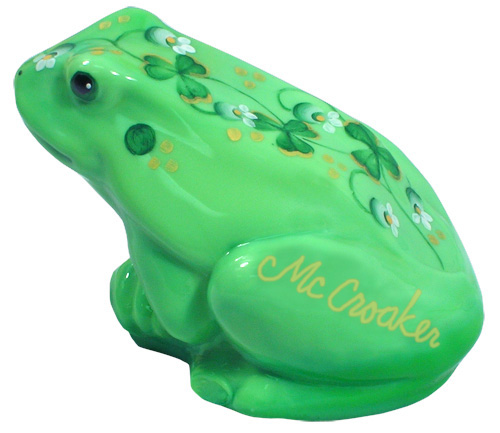 one named McCroaker! Handpainted by Gift Shop Featured Artist Susan Bryan, this 2-1/2" tall Chameleon Green Frog is the perfect way to bring a little Irish luck in your home! With each purchase of McCroaker, we'll enter your name ''twice'' in our Luck of the Irish $100 Gift Certificate Drawing! Please Note: Quantities are very limited. However, if sold out, special orders will be accepted by emailing service@ fentongiftshop.com prior to
3-17-08, St. Patrick's Day!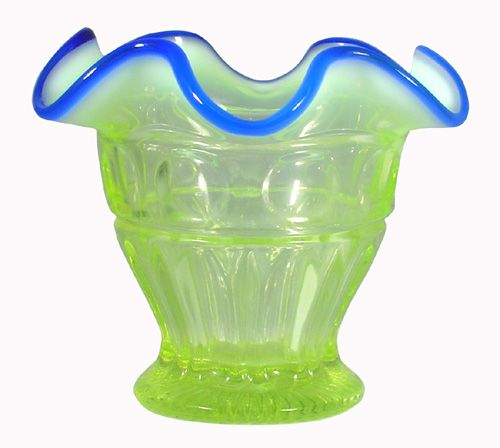 04356T3
3-3/4'' Signed Yellow Topaz Bowl with Cobalt Edge. $45.00
Buy Now!
WOW! This Yellow Topaz bowl with Cobalt edge has been personally signed by a Fenton family member which makes it a must have for any Fenton collection. Don't miss your opportunity to own this stunning piece! Quantity is limited.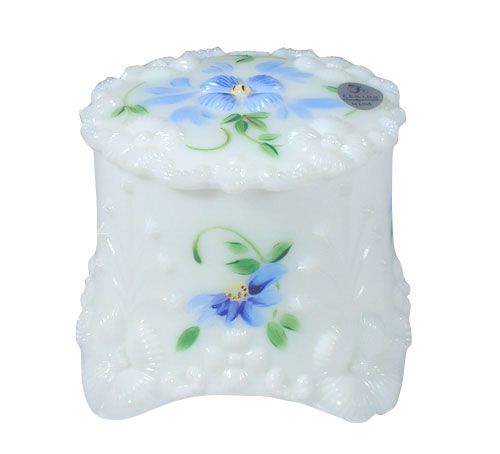 C6390I7
3'' Milk Glass Handpainted Shellflower Trinket Box $58.50. SALE PRICE $46.75 Buy Now!

For a limited time save 20% on this intricate 3" Milk Glass Trinket Box ... a mould acquired from Indiana Glass. The raised petals entwined with handpainted daisies will make a lovely keepsake for any Fenton collector.
GIFT SHOP HOURS:
Mon-Sat: 8 a.m. - 5 p.m.
Sunday: Noon - 5 p.m.
Fenton USA Presents. . .
Ocean Fantasy by Frank Workman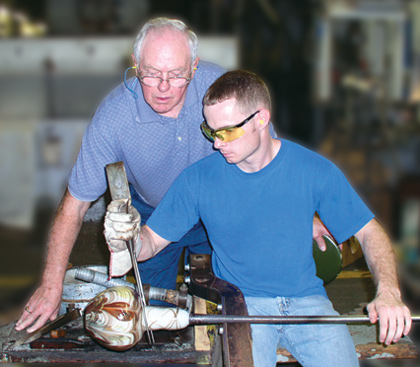 Visitors at Fenton Art Glass watch in awe
as glass artisan Frank Workman sits at his finisher's bench and carefully applies a molten thread of glass to a vase. Within a few minutes, Frank has deftly fashioned the thread into an intricate zigzag pattern whose bright color contrasts perfectly with the hue of the vase. His audience applauds as Frank holds the vase aloft momentarily for all to see.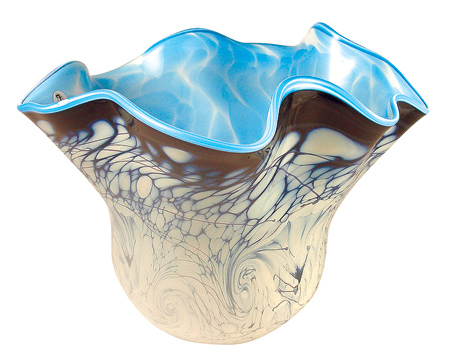 Since joining Fenton in 1996, Frank
has mastered all the traditional skills
of the glassmaker. In recent years, he has worked closely with master glass artisan Dave Fetty and taken on some of the most challenging jobs in our factory.

However, Frank most enjoys working "off hand," producing vases and similar objects with a basic mould and creating vivid decorative motifs ranging from hanging hearts and thin threads to amazing swirls, twists and exaggerated geometric patterns.
Frank combines opaque blue glass and black glass with crushed brown frit in this dramatic free-form "Ocean Fantasy" bowl which will vary slightly in its 11" size. Ocean Fantasy (8191 1Q) is limited to 500 pieces. Click here to see our other items available for Spring 2008.
Fenton International's FireWorks
Glows with Natural Beauty!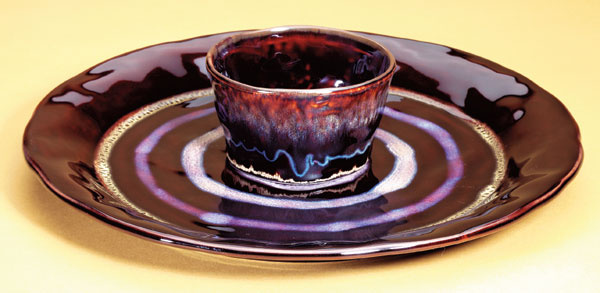 Three kiln firings are required to achieve the artistic blend of color. Reactive glazing separates the colors into droplets of texture while the final glaze ensures safety in use. The drip glazing of this unique collection fits casual tabletop trends everywhere. Visit your local dealer for these items or click here to view more ceramic items from Fenton International. Shown above is the FG840 Charger Platter (14'' dia.) and the FG849 Ramekin (2 1/2'' h. x 4 3/4'' dia.).
Chameleon Green Pond Buddies!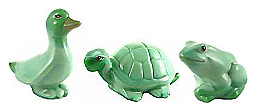 A new color from Fenton for 2008 is Chameleon Green. The 2008 Pond Buddies collection features three green figurines. The 5317 G3 Duck, 5266 G3 Turtle and 5274 G3 Frog are part of this cute grouping ... sure to delight animal figurine collectors. Click here to view more of the Spring 2008 Pond Buddies from Fenton Art Glass USA or visit your local Fenton USA dealer.
Our first factory manager, Jacob Rosenthal, developed an opaque "Nile green" before he joined Fenton, and this antique hue is popular among collectors. We're glad to be able to offer this contemporary version of "Jake's" original color.
More Fenton Points of Interest...
Fenton Factory Tours

Visitors to Fenton Art Glass will find a spacious Gift Shop and a pleasant museum. Free factory tours (M-F 8:15 a.m. to 2:30 p.m.) take small groups of guests right out to the factory floor to see glassmaking "up close and personal." Friendly, knowledgeable tour guides explain all aspects of the operation. The Fenton tour has been ranked among the "Top 10" factory tours nationwide by USA Today. In addition we have been named Rand McNally Best of the Road for 2006. For a factory tour schedule, click here. For a map, click here.