IN THIS ISSUE:
Fairy Frolic Vase
Fenton Gift Shop Exclusives
Fenton International Anniversary Glass Designs
Fenton Auction Summary
FENTON GIFT SHOP NEWS
If you're looking for a special way to preserve memories for
generations, contact our Gift Shop's Featured Artist, Susan Bryan. Susan has made hundreds of special "one of a kind" requests come to life!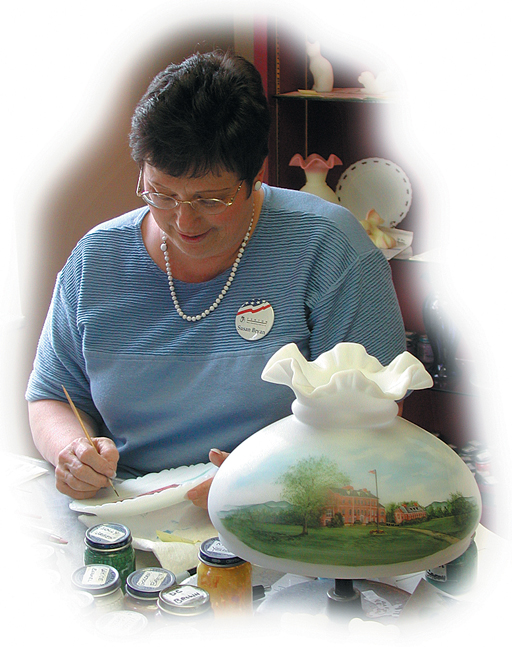 A self taught artist who has worked at Fenton for 31 years, Susan enjoys having the creative freedom to design and her perfectionism shines through in her works.

To inquire about placing a special order please call 1-800-319-7793 x383 or 327 or stop in and meet Susan Monday thru Friday from 8:00 a.m.-4:30 p.m.
SPECIAL FENTON GIFT SHOP EXCLUSIVES!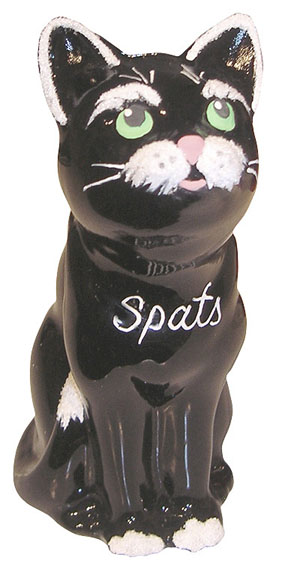 A 2008 Gift Shop Exclusive…Reminiscent of popular yesteryear fashion! Spats… the Cat. A special order designed by Gift Shop Featured Artist Susan Bryan. Order Yours Today! $70.00 - 1-800-319-7793 x383.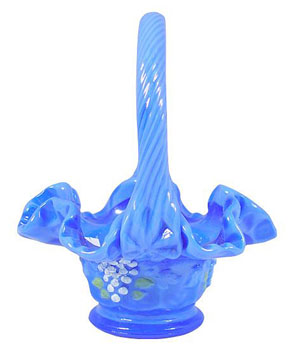 4585HPP2
4-1/2'' Fenton
Gift Shop Exclusive Periwinkle
Mini Basket Buy Now!
$30.75
Made exclusively for the Fenton
Gift Shop, this 4-1/2" Periwinkle
Mini Basket is handcrafted in an historic color rarely made by
Fenton. Periwinkle Blue is a heat-sensitive glass ranges from light
to dark blue to create beautiful gradations of color - a true art glass treatment. This grape embossed mini basket has been accented with a simple handpainted touch.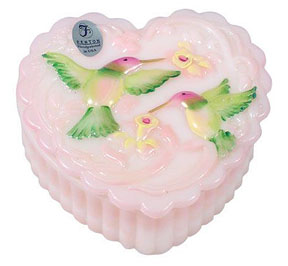 C578648 - 4'' Rosalene
Handpainted Hummingbird Heart Box
Buy Now! $56.00


This beautiful 4" Rosalene Hummingbird Heart Trinket Box
has been blushed with pink and the hummingbirds are intricately painted with green, yellow
and pink.
GIFT SHOP HOURS:
Mon-Sat: 8 a.m. - 5 p.m.
Sunday: Noon - 5 p.m.
Cameo Carved Art Glass from Kelsey Murphy and Robert Bomkamp
When you see the Fairy Frolic vase, you'll simply
"ooh and aah" at the remarkable, intricate details of
this very special cameo carved piece.

Our skilled glassblowers are challenged by the task of creating a blown vase with two layers of glass: rich ruby red inside and opaque white Milk Glass on the outside. Because some of the Milk Glass will be taken away by the cameo carving process, the thickness of this outer layer is crucial. Because the vase is tall, the glass must be distributed properly on the blowpipe so that there will be proper weight in the bottom of the vase.

Designed by Kelsey Murphy and Robert Bomkamp, the cameo carved Fairy Frolic motif features a lissome fairy in a lush garden of leaves and fantastic mushrooms. The art of cameo carving requires both skill and great dexterity as the Milk Glass is carefully taken away with aluminum oxide crystal under pressure while other areas of the glass are protected by a mask.

Limited to 175 individually numbered pieces, this 9'' Fairy Frolic vase
(ware#8973 65 ) will surely be an heirloom keepsake! Click here to see our other items available for Spring 2008.
Send "Happy Anniversary" Wishes
with Glass from Fenton International!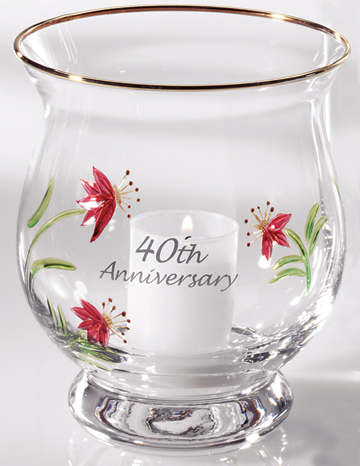 Wish someone Happy Anniversary with a special keepsake. Try Anniversary glassware from Fenton International. Seven shapes with a floral design are available: bud vase, heart vase, rose vase, candleholder, candy box, bell and a large bowl.

Each item features a hand cut floral design in the
glass and precious metal lettering for the appropriate message.
The following lettering on the glass is available:
Happy Anniversary, 25th, 40th, and 50th Anniversary. Lettering for 60th Anniversary is available on the Heart Vase and the Candy Box. For a complete listing these Anniversary designs, click here.
What A Sale! Auction Summary
Several hundred bidders enjoyed themselves on Sunday
Feb. 17, as auctioneer Randy Clark presided over the sale
of 250 lots of Fenton glass. Many of the items sold were
color samples from Fenton's chemistry laboratory area,
and others were from various factory storage areas.
Rare Hobnail items in Burmese and Rose Quartz sold briskly,
and some orange pieces were particularly popular.
Several Robert Barber eggs sold in the $550-650 range,
and one especially nice example brought over $1000.
Serious bidders vied for one-of-a-kind items by Dave Fetty
and Frank Workman, and sandcarved items from
Kelsey Murphy and Robert Bomkamp were also of interest.

Mark your calendar for the future Fenton auctions (May 25 and August 4)
More Fenton Points of Interest...
Fenton Factory Tours

Visitors to Fenton Art Glass will find a spacious Gift Shop and a pleasant museum. Free factory tours (M-F 8:15 a.m. to 2:30 p.m.) take small groups of guests right out to the factory floor to see glassmaking "up close and personal." Friendly, knowledgeable tour guides explain all aspects of the operation. The Fenton tour has been ranked among the "Top 10" factory tours nationwide by USA Today. In addition we have been named Rand McNally Best of the Road for 2006. For a factory tour schedule, click here. For a map, click here.