IN THIS ISSUE:
New Hyacinth color
Fenton Gift Shop Exclusives
Fenton International Glass Designs
Fenton Auction Countdown
FENTON GIFT SHOP NEWS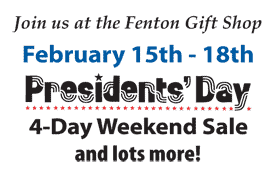 There's no better time to shop for world-famous Fenton Art Glass than Presidents' Day Weekend in Williamstown.
Enjoy 30% off our entire stock of QVC, 50% off select retired First-Quality Fenton... Family Signing Events... A Free Glass ID... special Fenton Gift Shop Exclusives, including a surprise Dave Fetty collectible... and more! Click here for more sale information.
SPECIAL FENTON GIFT SHOP EXCLUSIVES!
Cherry Blossom Delight...
A Presidents' Day Special with our very own Presidents' signatures! This handpainted, elegant Gift Shop Exclusive vase is sure to make a stunning statement in your home! Don't miss out...only a few remain!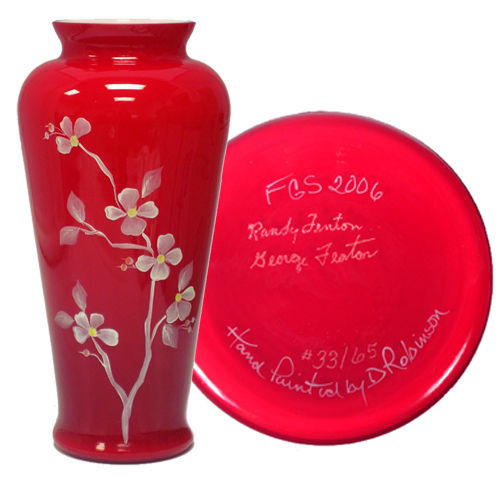 GS426HP 10'' Signed Ruby Plated Amberina Stretch Vase $169.50.
Limited to 65 pieces; Signatures of
Randy Fenton and George Fenton.
Buy now!

The perfect gift to show off that Valentine's Day Diamond! This 3" black ringholder makes a lovely gift to give or receive. The contrast produced by the deep rich ebony hue will make your jewels sparkle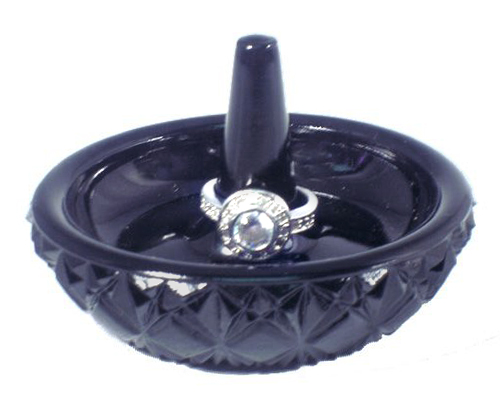 even more! Ring not included.
09144BK
3'' Black Ringholder $10.50
Buy now!
GIFT SHOP HOURS:
Mon-Sat: 8 a.m. - 5 p.m.
Sunday: Noon - 5 p.m.
Here's Hyacinth. . . a new Fenton color for 2008!


You'll surely enjoy this new blue hue
from Fenton. Director of Design, Nancy Fenton praises Fenton chemist Wayne King for developing this purple-toned blue that's perfect for today's decorating styles. "Hyacinth will go with pinks, yellows, and greens," Nancy notes. "It's a very versatile color. Wayne's secret is just the right blend of cobalt and manganese colorants in the glass batch."
Shown above is the (6010LY) "Pretty Patio" Shell Bowl in Hyacinth. Perfect
for floral displays or for entertaining, this 12'' bowl is made with spin-mould technology. This innovative process enables us to produce some very interesting shapes ranging from this bowl to attractive votive candleholders.
To see our other items available in this pleasing color click here.

Fenton International features handcrafted artistic gifts from around the world. The logo shown here will be used on these products.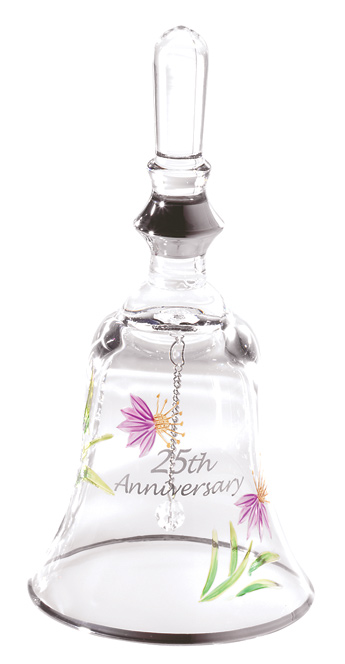 Special Glass Designs
from Fenton International!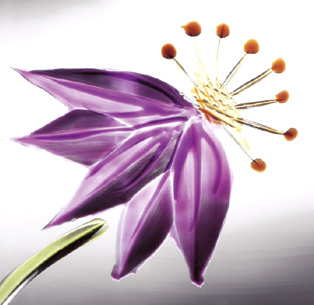 Fenton International's special glass collection features a floral design.
Each flower is hand cut into the glass using special wheels. The precious metal lettering is applied and fired into the glass. Finally, each design is handpainted and fired again to create the brilliantly sparkling image. There are seven shapes ranging from a bell and a bud vase to a candy box and a heart-shaped vase. For a complete listing of these designs, click here.
Fenton Auction This Weekend!
Preview is at 11 a.m. at the Fenton Art Glass factory. 
Auction begins at noon. There will be 250 lots of glass. 
Among the items will be this Beaded Melon vase in 
''amberina'' from 1961. 
Light lunch (hot dogs, chips, bottled water, etc.) will be
available for purchase, served by The Mid-Ohio Valley 
Players, a local theater group.
More Fenton Points of Interest...
Fenton Factory Tours

Visitors to Fenton Art Glass will find a spacious

Gift Shop and a pleasant museum. Free factory tours (M-F 8:15 a.m. to 2:30 p.m.) take small groups of guests right out to the factory floor to see glassmaking "up close and personal." Friendly, knowledgeable tour guides explain all aspects of the operation. The Fenton tour has been ranked among the "Top 10" factory tours nationwide by USA Today. In addition we have been named Rand McNally Best of the Road for 2006. For a factory tour schedule, click here. For a map, click here.

For questions or comments, please do not reply to this email. Instead, email: askfenton@fentonartglass.com. This email has been sent to you because you have agreed to receive offers and information from the Fenton Art Glass Company. We respect your privacy and do not sell your personal information. For details, please review our privacy policy.

How to unsubscribe: If you prefer not to receive offers or information from Fenton Art Glass, please use this page.

If you use a Challenge-Response system for email, please make certain that you can receive our email by adding askfentononline@fentonartglass.com to your Allow List. For specific instructions for major ISPs, click here.

The sender of this email is the Fenton Art Glass Co., 700 Elizabeth St., Williamstown, WV, 26187