IN THIS ISSUE:
Fenton Gift Shop News
Fenton Auction
Mary Gregory for 2008
Fenton International
FENTON GIFT SHOP NEWS

Annual Presidentís Day Sale
February 15Ė18

Donít miss our first big event of 2008!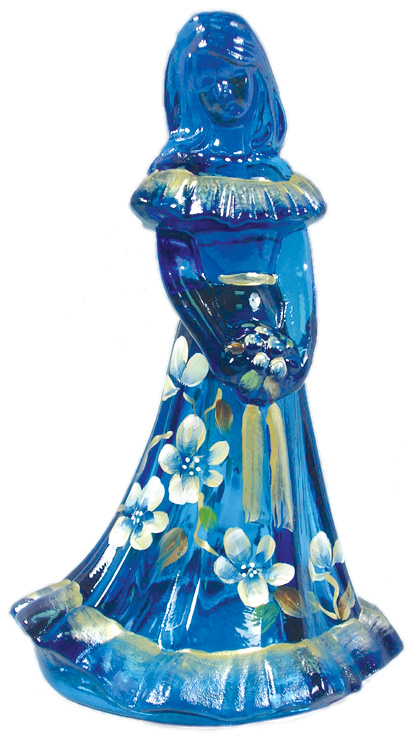 Special Gift Shop Exclusives... including this charming Indigo Bridesmaid Doll handpainted with a delicate Cherry Blossom pattern. She's the perfect addition to any collection.
Our magnificent new Black Marigold Lion's Bowl is a must for Carnival glass collectors. Items are not available for phone orders until February 19th!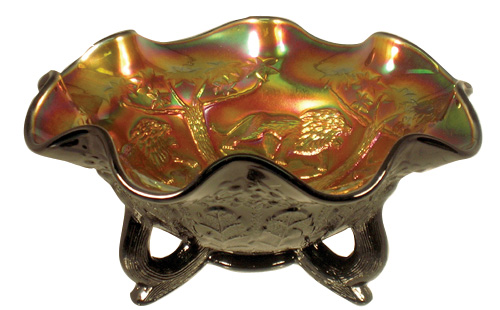 Special master craftsman events on Saturday, February 16 featuring Dave Fetty at 9am and 10am and Frank Workman at 11am and Noon. Limited seating. Call 1-800-319-7793, Ext. 311 to make reservations.
Family Signing Events:

Randy Fenton on Friday,
Feb. 15 from 11am - 2pm

George Fenton on Monday,
Feb. 18 from 11am - 2pm
A FREE glass ID on Sat.,
Feb. 16 from 1pm - 4pm
Visit us President's Day Weekend!

GIFT SHOP HOURS

8am - 5pm, Mon - Sat
11am - 5pm, Sunday
Cranberry Opalescent Vase...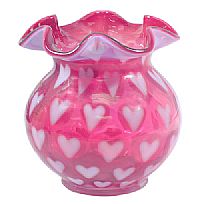 UC162CR
Fenton
Gift Shop Cranberry Opalescent Heart Optic Vase. $65.00
Original Price $74.50 now $65!
Fill this Cranberry Opalescent Heart Optic Vase with sweet chocolate kisses for a perfect presentation on Valentine's Day or any special occasion. The unique heart optic is most difficult to achieve and Fenton glassmakers rise to the challenge.
Don't Miss the Auction February 17!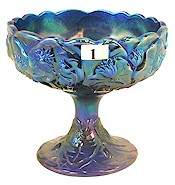 We hope to see many of you during the Fenton Gift Shop's President's Day festivities February
15-18. One of the highlights will be the auction of 250 lots on Sunday, February 17, at the Fenton factory. There will be a preview will be at 11am with the auction to begin at noon.

Fenton historian James Measell organized this auction, so we asked him to tell us more about it. "There is quite a variety," Jim said, "from a few older pieces and lots of color samples from the 1960s to one-of-a-kind items from Dave Fetty or Frank Workman as well as our cameo carvers, Kelsey Murphy and Robert Bomkamp. I had a lot of fun preparing the auction listing because so many items had original stickers on them. This will be a great auction." View the auction listing and pictures on the auctioneer's web site: www.randyclarkauctions.com.

New Mary Gregory Styles for Spring 2008!

Fenton's ''Mary Gregory'' style is a well-established favorite among collectors. For Spring 2008, we have four new items which are individually numbered limited editions!


In the new Sky Blue color, we have ''Day at the Beach,'' a heart-shaped trinket box (perfect for Valentine's Day!) and the ''A Clear Day for Flying'' pitcher. Available in Aubergine is "Nature's Beauty'' fairy light and the ''Balloon Send Off'' trumpet vase. All items will be limited to 1250 pieces.

Visit http://www.fentonartglass.com/spring2008/ for a listing of the Spring 2008 collection.

FireWorks Artware from Fenton International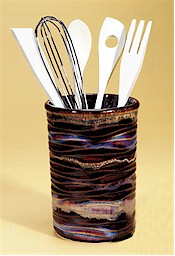 Our FireWorks Artware line from Fenton International includes many functional stoneware items for your tabletop: bean pot, cereal bowl, dinner and salad plates, serving bowls, utensil holder (shown at left) and much more. Each item is perfect for the casual tabletop.

Like colorful minerals from the earth, this handmade collection glows with natural beauty. As in all fine handmade ceramics, each piece will vary in color and texture due to the reactive glazing process.

Fenton Art Glass colors such as Aubergine, Autumn Gold and Indigo Blue are the perfect complement to these luscious mineral tones.

Click here to view other ceramic items from Fenton International.

More Fenton Points of Interest...
Fenton Factory Tours

Visitors to Fenton Art Glass will find a spacious Gift Shop and a pleasant museum. Free factory tours (M-F 8:15am to 4:00pm) take small groups of guests right out to the factory floor to see glassmaking "up close and personal." Friendly, knowledgeable tour guides explain all aspects of the operation. The Fenton tour has been ranked among the "Top 10" factory tours nationwide by USA Today. In addition we have been named Rand McNally Best of the Road for 2006. For a factory tour schedule, click here. For a map, click here.