IN THIS ISSUE:
George Fenton Message
Fenton Gift Shop Exclusives
Fenton International Update
Fenton Auction
FENTON GIFT SHOP NEWS
Annual President's Day Sale
February 15–18

Don't miss our first big event of
2008!
SPECIAL FENTON GIFT SHOP
EXCLUSIVES!
A new Indigo hen-on-a-nest covered box...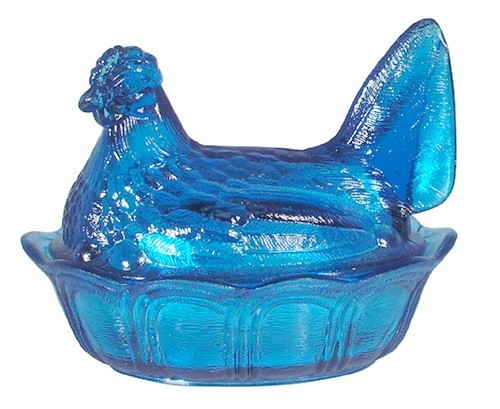 This charming Indigo cat,
hand-decorated with our delicate cherry blossoms pattern, will also be available.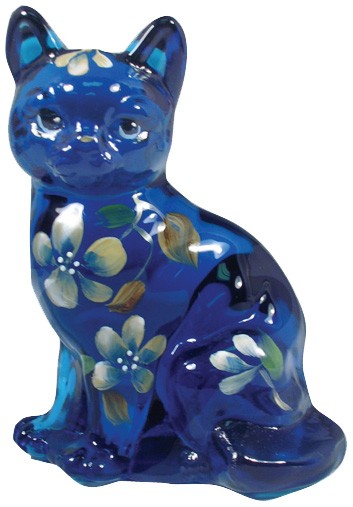 Please note: Items are not available until February 15th.
Special master craftsman events will be held on Saturday, February 16, featuring Dave Fetty at 9 am and 10 am and Frank Workman at 11 am and noon. Plus, a family signing event and more…visit us President's Day weekend!

GIFT SHOP HOURS:
8 am - 5 pm, Mon - Sat
Noon - 5 pm, Sunday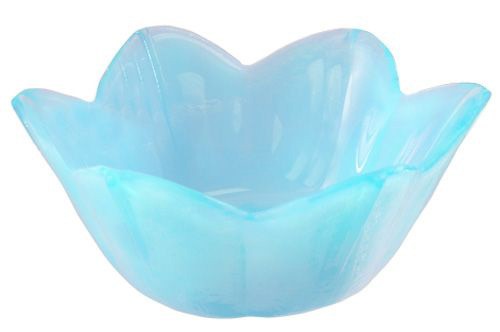 M39227BHM - 7" dia.
Fenton Gift Shop
Sky Blue Bowl
only $14.50
Buy now!
This lovely Sky Blue Lotus Blossom shaped bowl is 7" diameter by 2-3/4" high. The fresh new color features a translucent quality with unique striations in each piece. Perfect for individual side salads and desserts, a lovely breath of spring for your winter table.

Happy New Year to our Faithful Customers!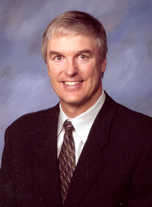 First, I'd like to thank all our customers and collectors who increased their purchases from the Gift Shop, over the internet, and through our dealer network during the second half of 2007. This surge of business is a key reason why Fenton is still producing glass. The year 2008 will bring new beginnings as we implement changes to recover from the difficulties we faced in 2007. We have initiated two brands: Fenton USA and Fenton International. Details will be forthcoming on the unique and beautiful items from Fenton International.

As for Fenton USA, we will add USA to each of our moulds, either below or beside the current logo. To simplify production and reduce costs, we are restricting the number of Fenton dealers, reducing the number of items offered, and shortening the time these items will be produced. This means that Fenton items will be more limited, both in number and in the time available.

If you wish a particular item, you need to order it soon after it has been offered to ensure that you get it. We expect to have several other offerings throughout the year. All Fenton products will continue to maintain the principles of quality, unique design, and handcrafting that have been Fenton hallmarks for more than a century.

Fireworks and Leopard Print...
from Fenton International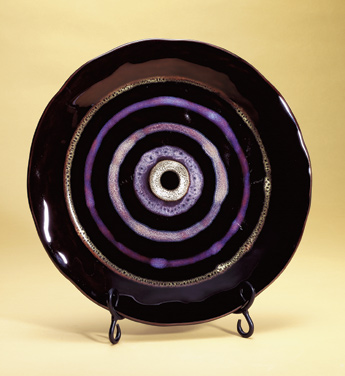 Fireworks and Leopard Print - An exciting offering from Fenton International. Artistic and functional dinnerware and gifts from the Fenton design team.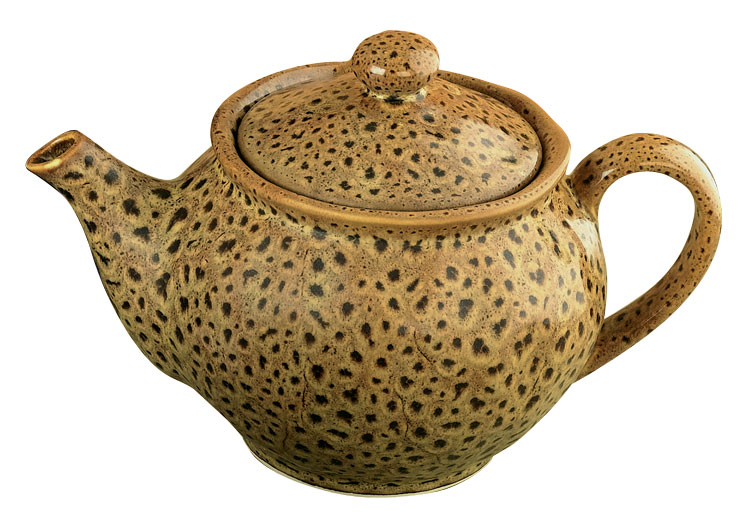 These handmade, quality stoneware items glow with a natural beauty. New shapes and coordinating Leopard Print dinnerware extend the Fireworks Collection. These products vary

slightly due to the glazing processes, but all blend beautifully into a unique collection.
Fenton Auction Coming Soon!
An auction of Fenton Art Glass will be held on February 17!
For an auction preview, visit www.randyclarkauctions.com
Upcoming newsletters will provide more information
about the items being offered at this auction.
More Fenton Points of Interest...
Fenton Factory Tours

Visitors to Fenton Art Glass will find a spacious Gift Shop and a pleasant museum. Free factory tours (M-F 8:15am to 4:00pm) take small groups of guests right out to the factory floor to see glassmaking "up close and personal." Friendly, knowledgeable tour guides explain all aspects of the operation. The Fenton tour has been ranked among the "top 10" factory tours nationwide by USA Today. In addition we have been named Rand McNally Best of the Road for 2006. For a factory tour schedule, click here. For a map, click here.