FENTON GIFT SHOP
SPECIAL OFFERINGS!
Z3837MI
7-1/2'' Milk Glass Hobnail Basket
$46.25, Buy Now!
This Gift Shop Exclusive 7-1/2"
Milk Glass Hobnail Basket with a notched handle will make a perfect addition to your Milk Glass or Basket collection.

Z3795MI
3'' Milk Glass Hobnail
Toothpick Holder
$13.50, Buy Now!

Z3902MI
4 1/2'' Milk Glass Hobnail
Sugar and Creamer Set
$64.50, Buy Now!
Z3977MI
7-1/2'' Milk Glass Hobnail
Butter Dish
$38.00, Buy Now!

Produced as a Fenton Gift Shop Exclusives, these Milk Glass Hobnail items (Toothpick Holder, Sugar and Creamer and Butter Dish) may serve as utilitarian pieces of beautiful Fenton Art Glass. They also make wonderful additions to any Milk Glass collection and great wedding gifts!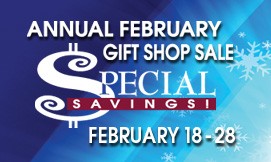 Click on the above image for details on the upcoming February Gift Shop Sale. . . Family Signing Events, Discounts and More!
Fenton eBay Auctions
Own a unique Fenton creation, including rare, one-of-a-kind pieces, through our weekly eBay Auctions!
Items featured this week...
Fenton USA Presents. . . Vibrant Hobnail Vases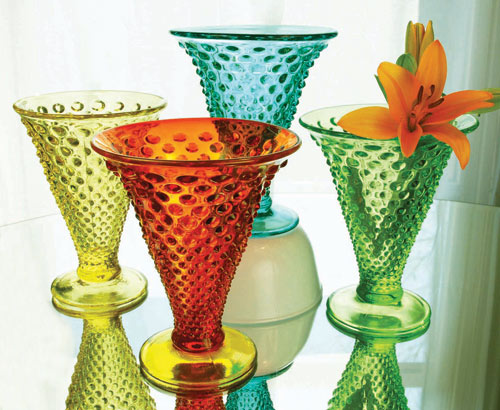 Hobnail, one of the best known and collected Fenton patterns, has been in and out of the Fenton line since the late 1930s. Our Spring 2011 color frenzy continues with these great spots of color in Hobnail as part of our Forever Gifts collection.
Forever Gifts are affordable, handcrafted glass accessories in four vibrant trend colors. These 7-1/2'' Hobnail Vases are handcrafted in our newer colors: Robin's Egg Blue, Key Lime, Buttercup, and Orange Slice. Click on each image to order. To view more new items from Fenton USA, click here. Can't find it online? Contact one of our Fenton dealers! To locate a Fenton dealer near you, click here.

Internet Exclusive. . . Burmese Handpainted Basket
Internet Exclusive Price: $129.50

While
Supplies
Last!
This Internet Exclusive square inverted 8'' Basket is handcrafted in our classic Burmese. Burmese glass contains pure gold in the formula, which creates the soft pink blush. Each basket features a basket handler's mark on each side of the handle. To learn more about basket handler marks, click here. Award-winning Fenton designer Robin Spindler's handpainted Clematis flower really sets off this piece! Each basket is signed by the artist who handpainted it. To view all of our Internet Exclusives, click here.
Fenton USA on QVC on February 8!
Fenton Art Glass will be featured on QVC on February 8, 2011. Guest host George Fenton will present items made especially for QVC, including
this Daisy & Button Salt & Pepper Shaker Set, handcrafted in Milk Glass and Black glass. These hour-long shows will broadcast from 3:00-4:00 a.m. and from 1:00-2:00 p.m. (Eastern time). Watch for a preview later this week of items to be offered.
New Fenton pieces made especially for a show will be on QVC.com not long before the show begins to air, and may be ordered at that time and any later time until they are gone. However, purchases of new items on the day of the show are what is most watched. We appreciate the help of Fenton collectors in their support of Fenton on QVC! Click here to view Fenton items made exclusively for QVC!
---