Sculptor turns plaster and clay into art for century-old business
June 11, 2005
by DEBBIE SCHWARZ SIMPSON
The Register-Herald Newspaper, Beckly, WV


WHITE SULPHUR SPRINGS - As the sculptor at the Fenton Art Glass Co., Suzi Whitaker is on the ground level of the century old business based in Williamstown.
"I create the shapes," maintains Whitaker, a native of Wellsburg. "It all starts here," she adds.
"I come up with the mold," Whitaker explains.
Whitaker is adept at sculpting with both plaster and clay.
"I love to work with the clay," she notes. "With the plaster, I'm carving with a knife and other sharp tools. With clay I can change the mould with a brush of the finger," she says.
"Clay is the basis for Fenton's new moulds," continues Whitaker.
Whitaker gives a quick answer when queried about her favorite mould for Fenton.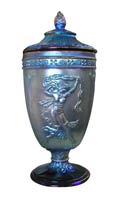 "It was a mold that was lost in the 1940s," she says of "Dancing Ladies."
"I followed the design as closely as possible from old pieces of glass that were in the museum," said Whitaker, in discussing her adaptation of Frank L. Fenton's original motif for a new covered urn.
The mould was done in three phases, Whitaker said.
"I used plaster for the lid and base and did the ladies in clay," she explained.
The finished product is done in Favrene, an innovative Fenton color unveiled three decades ago. Dancing Ladies boasts the signatures of 10 members of the Fenton family.
Whitaker, a relative newcomer, to the Fenton family, joined the art glass company in 2003.
According to the sculptor, she was drawn to the family-owned business via a segment she saw on QVC which featured the Fenton Art Glass Co.
"I saw a (Fenton) sculptor. I liked the way the artist and his pieces were portrayed," said Whitaker.
Whitaker's flair as an artist came at an early age.
"I began doing oil paintings in grade school," she recalls.
After studying fine arts at West Virginia University, Whitaker went on to the Art Institute in Pittsburgh. She graduated from the prestigious art school in 1982. Whitaker's professional career took numerous paths before she joined Fenton.
Putting her expertise in graphics and design to good use, Whitaker has done freelance work for several advertising agencies and book publishing companies as well as for major department stores.
Prior to coming to Fenton, she was a designer and head sculptor for a giftware manufacturer in Pittsburgh. She and her husband, Bill, a mining engineer, reside in Glendale.