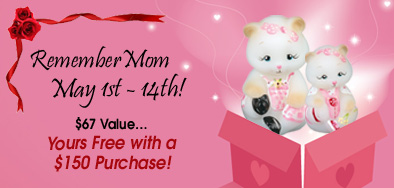 NOW AVAILABLE at your local dealer or online (fentonartglass.com)
May 1-14, 2007
Shop online at www.fentonartglass.com or visit a participating Fenton dealer* and enjoy a FREE gift with a $150 Fenton purchase or more from May 1-14.
Receive this pair of handpainted Mama Bear and Baby Bear figurines in Opal Satin glass - a $67 value!
Handcrafted in the USA by the skilled artisans at Fenton. Each bear is signed by the artist who handpainted it. Great Mother's Day gift or treat yourself!
*Some restrictions apply, please contact individual store for details.
To see if a participating dealer is near you, simply click on the State Postal Abbreviation below.
AL - AK - AZ - AR - CA - CO - CT - DE - DC - FL - GA - HI - ID
IL - IN - IA - KS - KY - LA - ME - MD - MA - MI - MN - MS - MO - MT
NE - NV - NH - NJ - NM - NY - NC - ND - OH - OK - OR - PA - RI - SC