Our Fenton Art Glass
"Mom's A Treasure" Celebration
May 5 - 6, 2006
In anticipation of Mother's Day 2006, participating Fenton dealers across the country will be hosting a variety of events on May 5-6.
At these dealer locations, you can enter a special contest to win various prizes and even a $400 Fenton shopping spree by telling us why your Mom's a treasure! If your Mom enjoys Fenton glass, there could be a real treat in store for her.
We created a Burmese Purse treasure box, graced with a floral motif designed by Stacy Williams and a special message ("You're a Treasure") inside. I

nscribed with the signatures of Nancy Fenton, Shelley Fenton, and Lynn Fenton,

this Burmese Purse will be available ONLY at stores hosting the special Fenton events. This Burmese Purse covered box features a handpainted floral motif designed by Stacy Williams. Perfect for storing life's little treasures... and a perfect gift for Mom!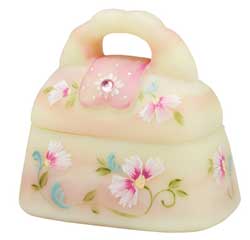 6477 DM
3" Burmese Purse
$58.50 U.S.
Click on the State Postal Abbreviation below, to find a participating retailer near you.
AL - AK - AZ - AR - CA - CO - CT - DE - DC - FL - GA
HI - ID - IL - IN - IA - KS - KY - LA - ME - MD - MA - MI
MN - MS - MO - MT - NE - NV - NH - NJ - NM - NY - NC
ND - OH - OK - OR - PA - RI - SC - SD - TN - TX - UT
---
Did you know?
Both Anna Jarvis, who founded Mother's Day, and Fenton Art Glass are treasures from West Virginia. When Fenton began producing glass in 1907, the campaign for a national Mother's Day was taking hold. In 1914, Mother's Day became a national holiday, and Fenton Art Glass proudly honors mothers everywhere. They are truly a treasure!