The Fenton Decorator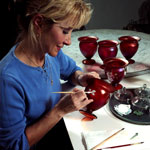 Fenton Art Glass began as a glass decorating firm in Martins Ferry, Ohio in 1905. Our first decorators were Carrie Howell, Lizzie Moore, Bertie Rhumbach, and Carrie Wood. Company founders Frank L. Fenton and John W. Fenton probably designed the decorations (and perhaps they wielded brushes and did some actual decorating, too).
When Fenton built its glass plant in Williamstown, W. Va., and began to make glass in 1907, decorating was an important part of our enterprise. None of the early decorators "signed" their work, so we can only speculate about who painted what.
Public tastes for decorated glassware began to change in the 1920s, and Fenton's decorating department, then under the direction of foreman Otto Goertler, was phased out during the difficult financial times of the 1930s.
Decorated glassware began to return to fashion in the 1950s, and Frank M. Fenton and his brother Bill, who had taken control of the company after their father's death in 1948, wanted to add decorating to Fenton's product mix. After quite a search for just the right person, Frank and Bill hired Louise Piper, a decorator from Westmoreland County, PA, who had many years experience in this field. Within a few months, Louise had hired and trained a staff of decorators and had created several new handpainted designs, including Violets in the Snow and Apple Blossom.
During the 1980s, several Fenton decorators (most of whom had been trained by Louise) became involved in decorating design. Linda Everson created a number of handpainted decorations for the Fenton line or series pieces as well as special items for the Connoisseur Collection. Diane Johnson and Michael Dickinson also developed noteworthy designs, as did Dianna Barbour, Susan Bryan, Beverly Cumberledge, Kay Cunningham, Richard Delaney, Carol Evans, Gloria Finn, Sue Jackson, Susan Johnson, and Robin Spindler. Linda Everson, Dianna Barbour, Susan Bryan, and Diane Johnson are with the company today, and their talents and experience contribute to our tradition of decorating excellence.
---
Don't miss out on your chance to attend a special decorating workshop...on a special Saturday in 2006! Call customer service at 1-800-319-7793 x327 or x283 or send email to service@fentongiftshop.com your preferred date and time. For more information, click here.