J. K. "Robin" Spindler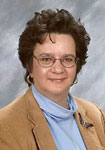 When you find a Fenton Art Glass collectible signed "J. K. Spindler" (Judith Kay), then you've found Robin! She says she is the "serious one" among the four-person Fenton decoration design group. Born in Morgantown, West Virginia, she came to Fenton in 1979 after her family encouraged her to pursue a love for art and painting. She became a designer in 1994.
Robin has developed a great personal style with lots of whimsey. Robin's unique designs are always of the highest caliber, and she says much of her inspiration comes from nature. The outdoors and animals are among her favorite subjects. Robin often studies the different shapes and colors in her garden and is amazed at the different lines and textures there.
Her talent has been recognized with many awards, including a Discovery Award for Technical Excellence and, most recently, the Vandenoever Award and the Judges' Award from the Society of Glass and Ceramic Decorators. She also has Awards of Excellence from the Collector Editions magazine and special recognition by the National Association of Limited Edition Dealers (NALED).
To shop for all pieces available online, click here.
Robin's Designer Pieces:
---
05471HF

4 1/2'' Mary Gregory Bubbles Cranberry Pitcher

06335C9

10 1/2'' Aubergine Mary Gregory Style Handpainted Basket

07300F5

5'' Home Run Violet Four Seasons Summer Fairy Light

Sold Out!

07668FX

6 1/2'' Four Seasons Batter Up! Violet Bell

08164D5

4 1/4'' Mary Gregory Style Aubergine Handpainted Pitcher

053858K

4 1/2'' Wildflowers Violet Hat

Sold Out!

064778K

3'' Wildflowers Violet Purse

05087BH

4'' ''Dobie'' Fern Green Handpainted Dolphin

04558HC

6 1/2'' Autumn Night Handpainted Black Satin Vase

06885BY

12 1/2'' Asian Trees Burmese Satin Handpainted Vase