Thomas K. Fenton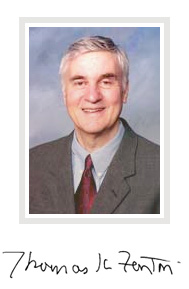 As Vice President of The Fenton Art Glass Company, Tom played a key leadership role in the Fenton factory's quest for Continuous Improvement of Quality. "Our goal was to constantly improve the product we made for Fenton's followers throughout the world."
Tom's early education included Ohio Wesleyan University, Ohio University Grad School and the US Army Reserves. In recent years, Tom has served the US hand glass industry's Society for Glass Science and Practices as its representative on the board of the Glass Manufacturing Industry Council (GMIC), an organization encompassing all major sectors of the American glass industry. The GMIC activity fosters cooperation in areas of technology, productivity and the environment.
His son Scott is Fenton's National Sales Manager and his daughter Jennifer is a Fenton Sales Representative in Kentucky.
Tom and his wife, Sharon, enjoy traveling, aerobics and mountain hiking plus spending time with their three fun-loving adult children and four wild grandchildren.