Michelle Kibbe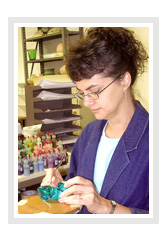 Michelle Kibbe has been with Fenton Art Glass since 1993. During her time at Fenton she has worked on a variety of items, from QVC to Fenton tent sale pieces and lamps. She especially enjoys painting floral designs on baskets.
Michelle says the Connoisseur and other Limited Edition items are the most challenging to paint because of the intricate pattern detail. You can see Michelle's name on some of our Limited Edition pieces. In March 2007, Michelle became one of our Decorating Designers. You can see her wonderful designs on many pieces for 2009.
Michelle enjoys gardening and being with her family. Shown at right are some examples of Michelle's designs offered for 2009. Click here to see more of Michelle's designs.
Signature Pieces
05267E0
Penguin, 4-1/2'' with vest/bowtie
design by Michelle Kibbe
Sold Out!

6515U6
10-3/4'' Spring Song
on Robin's Egg Blue Vase
Sold Out!

05228QQ
7'' Doll figurine in Orange Slice
(New color!)
Collectors' Corner 2010
Sold Out!

0666209
6-1/4'' Emerald Green
Snowman Bell
Sold Out!

1714RQ
3-1/2'' Ruby Ornament
''Bethlehem on Ruby'' design
Sold Out!