Michelle Kibbe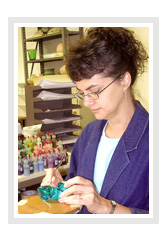 Michelle Kibbe has been with Fenton Art Glass since 1993. During her time at Fenton she has worked on a variety of items, from QVC to Fenton tent sale pieces and lamps. She especially enjoys painting floral designs on baskets.
Michelle says the Connoisseur and other Limited Edition items are the most challenging to paint because of the intricate pattern detail. You can see Michelle's name on some of our Limited Edition pieces. In March 2007, Michelle became one of our Decorating Designers. You can see her wonderful designs on many pieces for 2009.
Presently, Michelle creates the beautiful handcrafted beads available through Fenton USA Jewelry. She also occasionally handpaints special limited editions and one-of-a-kind glass selections for Fenton Gift Shop and for our eBay auctions.
Michelle enjoys gardening and being with her family. Shown below are some examples of Michelle's designs offered for 2009.