Don A. Fenton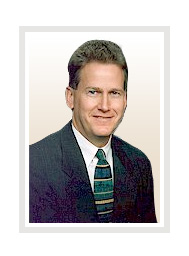 Don Fenton, Vice President, Sales of the Fenton Art Glass Company,
passed away on Monday, February 3, 2003, due to complications
following open heart surgery.
A native of Williamstown, West Virginia, Don was a versatile athlete,
excelling in golf, basketball and baseball at Williamstown High School.
At Muskingum College in New Concord, Ohio, he graduated with a B.S.
in mathematics in 1973 and captained the golf team. During both high
school and college, Don worked in the Fenton Gift Shop and in the
shipping and sales departments at Fenton Art Glass. He spoke with great
fondness of the encouragement given him by Ruth Holzapfel and Tom
Lubbers during his early employment at Fenton.
After graduation from college, he joined the company full-time and worked closely with his father in the sales department. He was named Sales Manager in 1978 and became Vice President, Sales in 1985. A frequent guest on QVC television broadcasts, Don greatly enjoyed talking about Fenton products and conversing with those who collect Fenton glass.
Don made many presentations to Fenton collector clubs, and his sense of humor and love for his family and Fenton glass were always evident. He frequently traveled to Family Signing Events, and many Fenton collectors can recall the pleasant times they spent with him.
He was active in many community organizations, including the Williamstown Elementary School PTA, the Foundation Board of Marietta Memorial Hospital, and the West Virginia Tourist Commission. He served as finance chairman of the First United Methodist Church in Williamstown.
Don was preceded in death by his parents, Wilmer C. "Bill" Fenton, who passed away on December 11, 2002 and Elinor Pryor Fenton, who passed away on February 13, 2002 and by his brother W. Craig Fenton, Jr., who died in 1950.
He is survived by his wife Donna; three children, Greer, Craig and Brice; brother Randy Fenton, and sisters, Christine Fenton and Shelley Fenton Ash; as well as many cousins, nieces and nephews.
Don's friendship and guidance will be sorely missed at Fenton.