The Artistry of Kim Barley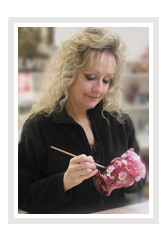 Kim Barley has flourished as an artist since joining Fenton's decorating department in 1969. Her designs became more intricate and elaborate as she gained experience. Kim says much of her inspiration comes from her love of water. Since becoming a Decorating Designer in 1993, she has created many designs with aquatic themes.
She also believes her art is heavily influenced by fashions. "Growing up, I loved to sketch. I wanted to be a fashion designer and was always drawing clothes," she grins. Kim's work has been recognized with awards from the Society of Glass and Ceramic Decorators as well as the National Association of Limited Edition Dealers (NALED).
Kim (one of Discovery Channel's Dirty Jobs show host Mike Rowe's top fans) also created the colorful handpainted decoration for the t-shirt paperweight sold on this web site after the show aired.
Click here to see more of Kim's designs.
Signature Pieces
6515U6
10-3/4'' Spring Song
on Robin's Egg Blue Vase
Sold Out!

04348EG
13'' Vase in Blue Burmese 2010 Connoisseur Collection Limited to 250 Vases 9 Fenton Family Signatures
Sold Out!

021443G 18'' Slant Shade Rosalene Lamp
Sold Out!