The Artistry of Kim Barley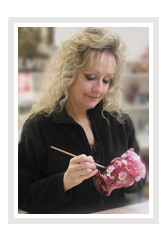 Kim Barley flourished as an artist since she joined Fenton's decorating department in 1979. Her designs became more intricate and elaborate as she gained experience. Kim says much of her inspiration comes from her love of water. She became a Decorating Designer in 1993, and created many designs with an aquatic theme.
She also believes her art is heavily influenced by fashions. "Growing up, I loved to sketch. I wanted to be a fashion designer and was always drawing clothes," she grins. Kim's work has been recognized with awards from the Society of Glass and Ceramic Decorators as well as the National Association of Limited Edition Dealers (NALED).
Kim (one of Discovery Channel's Dirty Jobs show host Mike Rowe's top fans) also created the colorful handpainted decoration for the t-shirt paperweight sold on this web site after the show aired.
When traditional glassmaking ceased at Fenton Art Glass, Kim transitioned to the jewelrymaking department and hand painted beautiful designs on beads and earrings.
Once the Fenton factory closed, Kim joined Fenton Gift Shop an artist designer and moved to the shop's new Boaz location in 2017. She designs and handpaints limited editions for Fenton Gift Shop, one-of-a-kind glass selections for Fenton Art Glass/Fenton Gift Shop eBay auctions and special orders for collector clubs. Kim has created a following among collectors for her whimsical seasonal designs, especially Halloween!