A Fenton creation..."just for you!"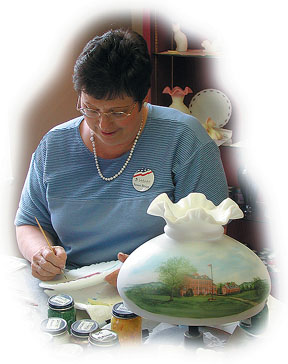 If you can imagine it,
we can paint it!
If you're looking for a special way to preserve memories for generations, you'll look forward to meeting our Gift Shop Featured Artist Susan Bryan. A long-time expert in design, Susan has made hundreds of special requests come to life. She has been part of the Fenton family for more than 30 years. With such a passion for creating her own art, it should come as no surprise that Susan's favorite aspect of painting in the Gift Shop is being able to create "one of a kind" works of art.

Popular favorites include a wide variety of pet portraits, scenic landscapes and homescapes, Burmese limited editions, patriotic and floral designs. Shown on this page are some examples of Susan's creations and of Susan at work.
To inquire about pricing and placing a special order, please call toll free at 1-800-319-7793 x320, x327 or x383