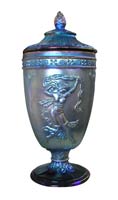 FENTON Handcrafted American Glass Artistry Exclusive Dancing
Ladies Covered Urn

ANOTHER REASON TO OWN FENTON Handcrafted American Glass Artistry!
Only owners of the book FENTON Handcrafted American Glass Artistry have the opportunity to own this spectacular 10" Dancing Ladies Covered Urn, handcrafted in precious Favrene glass. Inspired by the Mandarin Red Vase pictured on page 26, the Favrene Urn glows with the shimmer of pure silver in the formula. Favrene begins with Cobalt blue glass containing silver, that, when reheated, iridizes into a spectrum of colors. To obtain your Dancing Ladies Urn, you must purchase the book, which comes with a coupon allowing purchase of this exclusive piece.



For more information on the book, click here. Fenton as you've never seen it before! To celebrate the Fenton Art Glass Company's 100th anniversary, ten members of the Fenton family accepted the challenge to choose the very best pieces made by Fenton in its 100-year history for celebration in a spectacular coffee table book. Breathtaking full-color images of the finest examples of glass craftsmanship, artfully presented with all-new commentary.

---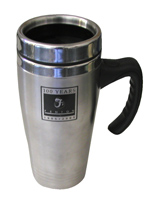 7'' Fenton Glass 100th Logo Travel Mug
Wow! There's nothing like a steaming hot cup of coffee on a cold winter morning, especially on that brisk drive to work before the heater kicks in. Sturdy stainless steel is crafted into a roadworthy travel mug that bears a 100th anniversary Fenton logo. Perfect for everything from hot chocolate to hot toddy...don't leave home without it! 7" tall.
---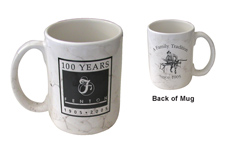 4 1/2'' Fenton Glass 100th Logo Mug

Fenton and you - perfect together! Fenton Art Glass celebrates 100 years of glassmaking artistry throughout 2005. This marbleized finish ceramic mug features a 100th anniversary logo, with "Clarence" the glassmaker on the reverse. 4 1/2" tall. Fenton fanatics will want one for the office and one for home!