The celebration continues throughout 2005, and it TRULY is a once-in-a-lifetime experience!
Relive the Centennial festivities by visiting our special website to see photos of the exciting live QVC broadcast, the dramatic results of the special Fenton Auction, Fenton factory tours, ornament decorating activities and more. There's still time to celebrate - something is always happening at Fenton, and any visit is a time to experience Fenton, make new friends, and take home memories...
Click here for selected photos of the Centennial Celebration events from July 29 to August 2, 2005.
---
Centennial Contest Winners Announced
The following winners were selected at random from entries received during the 5-Day Celebration, July 29 to August 2, 2005. One winner was selected each day.

Fridays piece was:
6667 FV
True Blue on Milk Glass
7 1/2" Pitcher
Retail Value: $99.50

The winner was: Patricia Noronha from Charleston, WV

---

Saturdays piece was:
8155 EF
Butterfly Minnet on Turquoise
7 1/2" Square Vase
Retail Value:
$89.50
The winner was: Sandra Betz from Muskegom, MI

---

Sundays piece was:
7736 QB
Blue Hydrangeas on Black
9 1/2" Basket
Retail Value:
$87.50
The winner was Ruth Phillips from Saint Cloud, FL
---

Mondays piece was:
5987 RL
Ruby Amberina Stretch
12" Ribbed Bowl
Retail Value:
$129.50
The winner was: Beverly David from Berne, IN 46714

---

Tuesdays pieces was:
4200 BS
Tulip Delight on Rosemilk
21" Petal Lamp
Retail Value:
$269.00
The winner was: Rosa Lee Everhart from Banbredge, OH

---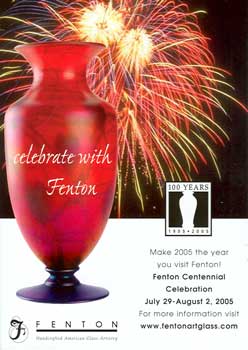 The Fenton Centennial Celebration continues!
---
Rated in USA Today as one of the TOP 10 tours in America, there is simply nothing like the Fenton Factory Tour. Watch raw materials become molten glass which is shaped by artisans in the age-old tradition. Furnaces glow; sparks fly, and from heat, noise and motion emerge works of art that captivate and delight.

The crafting experience showcases the talent of skilled artisans painstakingly handpainting each piece, and ends in the Gift Shop where an artist handpaints glassware to customer specifications. The Fenton Museum highlights mid-Ohio valley glassware from 1880 to the present.

Enjoy special Centennial Events throughout 2005 designed to make your visit a truly "once in a lifetime experience" – decorate your own Fenton Christmas ornament, observe firsthand the talents of skilled craftsmen Dave Fetty and Jim Ralston as they create special Fenton Centennial pieces…visit www.fentoncentennial.com for all the information you need to plan your Fenton Factory Experience.

Fenton Art Glass Centennial Celebration continues throughout 2005!