---
NEW! "Desert Sunset" Pre-Assembled Bracelet. . .
Fenton USA Jewelry is pleased to offer this beautiful Desert Sunset Bracelet as part of our pre-assembled handcrafted jewelry collection. This sterling silver hammered cable bracelet comes with two stoppers, two Antique spacer beads, our popular Desert Sunset Cornerstone and two Nocturne glass beads. Each bracelet also has an extender chain to accommodate most wrist sizes.
---
Fenton Gift Shop Presents. . . NEW Limited Edition Offerings


Pre-orders for these two Limited Edition pieces will be accepted until midnight on Monday, April 6, 2015.

Designed and handpainted by award-winning Fenton designer Frances Burton. She will sign, date and number each Vase and Amphora.
Shown above are two NEW designs, handpainted by Frances Burton, offered as Fenton Gift Shop Limited Editions.
This rich Cobalt Blue glass on the Flip Vase is the perfect canvas for her design of dragonflies hovering over he flowering vines. The design encircles this Flip Vase, which was handcrafted by our friends at Mosser Glass using a Fenton mould. The Flip Vase is priced at $195.00.
This beautiful Opal Satin Amphora and Stand will make an elegant statement on any tabletop display! Handcrafted by our friends at Davis Lynch Glass using a Fenton mould, Frances chose a stylized butterfly design which adorns all sides of the Amphora. She added color coordinating bands and vining florals to complete the look. This Amphora, with stand, is $225.00. Pre-orders for these two Limited Edition pieces will be accepted until midnight on Monday, April 6, 2015.
At press time for this newsletter we were unable to showcase more of "what's coming" from our talented design team. However, if you wish to inquire about future offerings or place your pre-order for the two pieces shown above, please call Fenton Gift Shop: 1-800-319-7793, ext. 342 or email: purchasing@fentongiftshop.com. You may also request to have your email added to a mailing list in order to receive future notifications of limited editions as they become available. During April, Fenton Gift Shop is open on Wednesday, Thursday, Friday, and Saturday from 10 a.m. to 3 p.m. (ET). Fenton Gift Shop is closed on Sunday, Monday and Tuesday. Hours listed are "weather permitting" and we suggest you call to confirm these hours before planning your visit.
---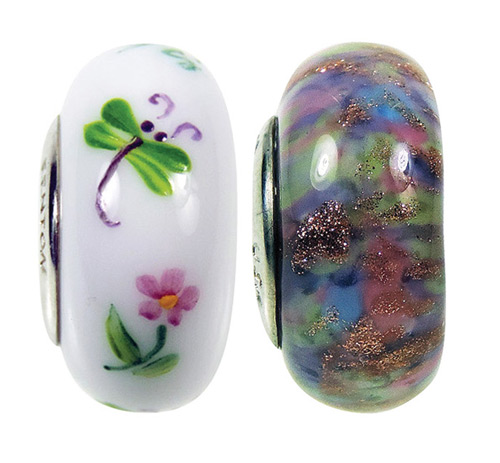 Frequent Buyer Program. . . Earn YOUR Free Limited Edition Bead!
Here's your opportunity to receive a beautiful limited edition bead absolutely FREE! Simply purchase ten beads from any authorized Fenton jewelry dealer or from our website: www.fentonartglass.com and you'll qualify for a bonus bead! Click here for details! We are now offering the limited edition Gracie (decorated) and Mikayla (Vasa Murrhina) beads shown at right. Click here to view our handcrafted art glass beads. NOTE: If you have purchased ten beads, let us know if we haven't notified you. . . please send us an email at askfenton@fentonartglass.com and put Frequent Buyer Qualifier in the subject line.
---
Fenton Custom Designs for Beads. . .
We've received many requests for specially designed beads. Most of these designs are exclusive to one retailer or organization, so we can not sell them on our website. If your group or store is interested in a custom designed bead, please call us for details at 1-800-933-6766, ext. 209. Click here to view a list of custom designed beads with contact info for the retailers or organization from whom you may purchase them. Be sure to check back as we will be updating this list regularly! Please contact the retailer or organization listed beside each Custom Design bead and be sure to say you saw it mentioned in the Fenton Newsletter!
---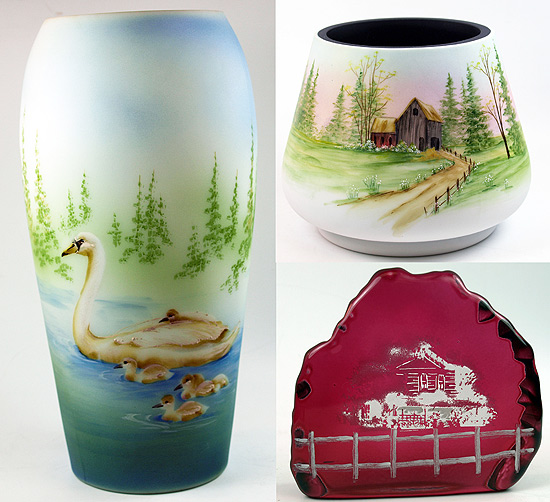 Fenton eBay Auctions. . .
Here's your opportunity to own a unique, rare, one-of-a-kind art glass creation, through our weekly eBay Auctions! Items featured this week. . .

Shown at left are three items featured for this eBay Auction. Included is this one-of-a-kind majestic Opal Satin Vase handpainted by Robin Spindler with a lovely scene of a Swan and her cygnets.
Frances Burton's talents at painting scenery shines on this Black glass cased with Milk Glass Vase with a handpainted barn surrounded by Spring flora and fauna.
Last but not least, we have another unique crystal iceberg Paperweight featuring Robin Spindler's design of an elegant home seen in the distance behind a wooden fence.
This auction ends on Wednesday, April 8-Noon (ET).