FENTON GIFT SHOP
SPECIAL OFFERINGS!


Z5228HPAG
7'' Emerald
Green Satin
Doll Figurine
$61.00
Buy Now!

Produced
as a new
Gift Shop Exclusive, our lovely Bridesmaid Doll figurine in Emerald Green Satin is handpainted with a delicate snowflake motif. Proudly handcrafted by Fenton artisans.
Z5056XE
3-1/2'' Chameleon Green
Dinosaur Figurine
$27.50, Buy Now!
What could be cuter than a Chameleon Green Dinosaur? Produced as a Gift Shop Exclusive, this figurine is a perfect addition to your Fenton critter collection.

Z5215HPA
2-3/4'' Chameleon Green Squirrel Figurine with Acorn
$35.25, Buy Now!

A Gift Shop Exclusive, this Squirrel figurine is handpainted with a tiny acorn in his paws. Chameleon Green glass features beautiful color variations that make each piece a one- of-a-kind treat.
Z8838H7
6-3/4'' Key Lime
Dancing Ladies Vase
$75.00, Buy Now!

Company founder Frank L. Fenton designed moulds for a Dancing Ladies vase that was popular in the Fenton line during the 1930s. Our skilled glassworkers have produced the Dancing Ladies vase in Key Lime glass with a Cobalt Blue edge.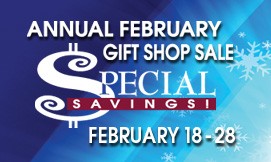 Click on the above image for details on the upcoming February Gift Shop Sale. . . Family Signing Events, Discounts and More!
Fenton USA Presents. . . New Buttercup for Spring!

08619Y8
7-3/4'' dia. Lucere Comport
$65.00, Buy Now!


08656Y8
7-1/2'' Daffodil Vase
$37.50, Buy Now!


06780Y8
7'' Paisley Candy Box
$49.50, Buy Now!
Buttercup, one of our new colors, is a vibrant yellow hue made with special ingredients. Buttercup glass captures the warmth of Spring sunshine and the excitement of nature's awakening. Among the new selections for Spring 2011, these three pieces coordinate beautifully with Sun Splash on Buttercup grouping designed by Stacy Williams.
The Lucere Comport is made with a mould first used at the Fostoria Glass Company in Moundsville, West Virginia, about 1907. We're proud to use the original name for this classic pattern. To view more new items from Fenton USA, click here. Can't find it online? Contact one of our Fenton dealers! To locate a Fenton dealer near you, click here.
Internet Exclusive Fairy Light
Let Your Light Shine. . . with this beautiful handcrafted Internet Exclusive Fairy Light! The Turquoise Shade features a lovely handpainted floral and dragonfly motif by award-winning Fenton designer Robin Spindler. Gem accents on one of the daisies and on the dragonfly complete this piece. An iridized Crystal base is a perfect complement. A limited quantity is available, so don't delay adding this Fairy Light
to your collection! To view all of our
Internet Exclusives, click here.
X5980HPG Fairy Light
Turquoise Shade with Crystal Iridized Base
Internet Exclusive Price: $75.00 Buy Now!
Fenton USA on QVC in February, 2011!
Fenton Art Glass will be featured on QVC on February 8, 2011. Guest host George Fenton will present items made especially for QVC, including this 4-1/2'' Mini Basket handcrafted in our refreshing Key Lime glass. These hour-long shows will broadcast from 3:00-4:00 a.m. and from 1:00-2:00 p.m. (Eastern time). Watch these newsletters for a preview of Fenton USA items to be offered during these two shows!
New Fenton pieces made especially for a show will be on QVC.com not long before the show begins to air, and may be ordered at that time and any later time until they are gone. However, purchases of new items on the day of the show are what is most watched. We appreciate the help of Fenton collectors in their support of Fenton on QVC! Click here to view Fenton items made exclusively for QVC!
Fenton eBay Auctions
Own a unique Fenton creation, including rare, one-of-a-kind pieces, through our weekly eBay Auctions! Items featured this week...
---